CAYE CAULKER, Belize District, Wed. May 13, 2020– The COVID-19 pandemic has utterly wiped out the earnings of a large number of residents on Caye Caulker, where the majority of employed persons were dependent on the tourism industry.
According to a press release issued by a group of private citizens, among which are many restaurant owners, 85 percent of the island's workforce were rendered unemployed by the pandemic.
The idea of creating a feeding program for Caye Caulker residents began to take shape in the mind of Peggy Clark, the owner of Bondi Bar. Clark began the planning from as early as March, gathering a number of her friends, and they began to work out the logistics that would be needed to implement this plan to feed the needy.
Realizing that more hands would be needed, Clark and her friends went about recruiting more volunteers for their humanitarian mission, and they formed an initiative known as the Caye Caulker Soup Kitchen.
"Within weeks, the reality of the situation sunk in, and many islanders joined the task force as the enormity of the demand required more volunteers to be able to able to achieve their goals!" a press release from this group of do-gooders said.
The release added, "To this day, Caye Caulker Soup Kitchen is made up of 11 restaurants, 50 volunteers all with the goal to provide hearty and nutritious meals for residents in need daily.  Again and again, community members work their magic and give selflessly of themselves by going fishing, baking, shopping and prepping for the program which has created this well-oiled machine that feeds up to 350 persons a day."
Reality is not lost on the organizers of the Caye Caulker Soup Kitchen. They have stated, "Unfortunately, we do not expect things to return to normal any time soon."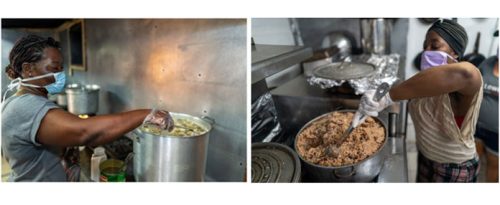 In describing their "comrade in paradise," they are mindful that the people they are helping were already living day-to-day, and now, many are unable to provide the basics for their families. The Caye Caulker Soup Kitchen is now providing food for these neediest individuals six days a week.
The forward-thinking organizers of the Caye Caulker Soup Kitchen have decided that they will raise more funds to better assist the residents in need.
Their press release said, "CCSK funding engine has been formalized with a GoFundMe that has currently reached over $35,000US. The reality of one hot meal a day is not enough, and the Soup Kitchen has decided to include additional items that can be eaten at the recipient's choice (either dinner or breakfast), and this will be their second meal of the day."
In order to provide this additional food, CCSK raised their GoFundMe goal to $55,000US. Those wishing to contribute can go to www.gofundme.com/f/caye-caulker-soup-kitchen-for-covid19-relief.
Amandala congratulates Peggy Clark and all her helpers and organizers for a magnificent and humanitarian gesture. Surely their selfless actions can be emulated in other parts of the country.