BELIZE CITY, Mon. Oct. 2, 2017–The Caribbean Court of Justice (CCJ) opened its new session today, and listed on the court's calendar for this month are three cases of public interest.
Solicitor General Nigel Hawke told Amandala that the court is expected to call up a matter on October 17 in the appeal by the Belize Bank Limited, in its dispute with the Government of Belize over the payment of a debt guarantee for Universal Health Services, now Belize Health Care Partners Limited.
The lower court had ruled that enforcing the arbitral award—which has also been upheld in US courts, is contrary to public policy in Belize, but the bank is persisting with its request for Belize's final appellate court to uphold the award. It is asking the CCJ for special leave to appeal. At last report, the monetary award had virtually doubled to roughly $70 million.
The second case being called up by the CCJ has to do with the settlement agreement on the 2009 nationalization of Belize Telemedia Limited. Sealed in September 2015, the agreement sets out a framework for compensation to the Michael Ashcroft group of companies, with a concession that the litigants are able to deduct their expenses from the portion of the award agreed to be channeled back into Belize for public projects. The estimate of expenses that were allegedly incurred was such that virtually nothing would be left to projects, and so the parties go back before the CCJ to have the matter resolved. GOB had claimed BZ$233 million would be allotted for projects in Belize, but the Ashcroft Alliance wants to leave only about BZ$10 million for that purpose.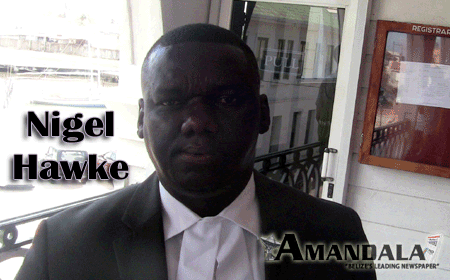 In the third Belize case to be called up at the CCJ later this month, attorneys for the Toledo Maya and the Government of Belize are due to appear before the CCJ via teleconference on October 23, as the parties report back on the status of the CCJ's order for the Government of Belize to implement a system for the recognition of customary land tenure in southern Belize.
Pablo Mis, spokesperson for the Toledo Alcaldes Association, one of two institutional parties to the case, told us that the Maya have expressed grave concern over the lack of any concrete steps towards fulfilling the spirit of the orders. According to Mis, the $300,000 which the CCJ had awarded the Maya as reparations to help with the implementation of the order has virtually been expended on salaries, rent, office supplies and vehicles.
He said that there has been no indication and no commitment on the part of the government to do anything substantive.
Hawke told Amandala that at the upcoming hearing, they will present a status report to the court, and submissions will be made by the Government of Belize.
The Maya are being represented by Monica Coc Magnusson and Magali Marin-Young, supported by an international legal team.