He was accused of wounding and raping the women in San Pedro
BELIZE CITY, Mon. Nov. 13, 2017–The details of an apparently strange case of multiple rape unfolded this morning when Justice Adolph Lucas dismissed 3 counts of rape and 3 counts of wounding that had been brought against Eric "Gato" Gutierrez, an auto mechanic of San Pedro Town, who was 21 at the time of the incident.
Justice Lucas dismissed the charges after the virtual complainants, three women, failed to appear in court for the second time. The women were first summoned to come to court on October 2 and when they did not show up, they were summoned again.
Justice Lucas said that he is satisfied that they are not interested in pursuing the charges, and he dismissed the charges.
The alleged incident occurred around 2:30 a.m. on September 6, 2013 at an apartment in San Pedro Town. One of the complainants, a Guatemalan national who was 25 years old at the time, gave the police a statement in which she said she left her apartment to go and buy a burrito and while she was returning home, she noticed that she was being followed by Gutierrez.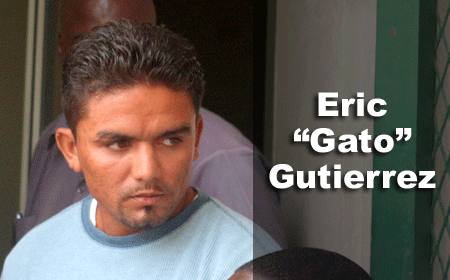 She said Gutierrez, who was armed with a knife, accosted her by the door of her apartment. She said a struggle ensued between them and during that struggle, Gutierrez apparently lost the knife.
She said she ran to the apartment where two of her friends, a Belizean and a Honduran, resided, and while she was at the door, Gutierrez caught up with her and this time he had a screwdriver.
The other two complainants said in their statements that they heard knocks on their door and when they opened it, they saw that the person at the door was their friend, the Guatemalan bartender. They said Gutierrez followed her inside and he demanded that she hand over all the money from the bar sales.
They said that when their friend (the Guatemalan) told him she did not have the money, he stabbed her in her left breast with the screwdriver, and he ordered them to take off their clothes, and they complied.
One of the complainants, the Belizean, who was 36 years old at the time, said that Gutierrez ordered her to perform oral sex on her friend, the Honduran, and she did as he had ordered because she feared for her life.
According to the third woman, the Guatemalan, while her friends were engaged in oral sex, Gutierrez raped her.
The Belizean said that after she had had oral sex with her Honduran friend, Gutierrez stabbed her in her leg and raped her.
According to her report, Gutierrez then raped the Honduran, after stabbing her in her hand.
They said that afterwards, Gutierrez who seemed to have been under the influence of some kind of drug, returned to a normal state of mind and offered to get water for one of them who was having fainting spells.
She said that when Gutierrez left to get the water, they went and got help from a man who was living in the front room. She said when Gutierrez returned with the water, the man told him to leave and he left. It was at that point that they called the police, she said.
But although the charges were dismissed, Gutierrez was not freed because he is serving a sentence of 5 years for burglary.
Gutierrez was not represented by any attorney. Crown Counsel Sheringe Rodriguez represented the Crown.