An Amandala interview with Charles Hogan, visiting from Los Angeles, California, on Monday, October 2, 2017, on 3304 Partridge Street.
BELIZE CITY, Thurs. Oct. 19, 2017
Amandala (A): So, game 3 now!
Charles Hogan (H): Game 3! Mein, this was the biggest game of my life!
Part 3
A: What kind of crowd are you talking about for this game? All the primary schools?
H: Now! Now, what we are talking about now… all the other schools had already been eliminated… This was for the finals now, between we and Sacred Heart. At this time now, there was no "hundreds of people," there were thousands of people…
A: At which stadium was this taking place? The same Carl Ramos Stadium?
H: At Carl Ramos Stadium, yes!… in those big goals… big goals for the twelve-, thirteen-year old kids. But we didn't see it as that then. All we knew it was a goal.
A: About what age were the kids at that time in primary school? I understand primary school in the old days used to be up to fifteen years or more sometimes…
H: No, no. Primary school age then was no more than fourteen; after fourteen you have to step out. After fourteen, that means you cannot pass Primary (Certificate exam); you can't make it; you just weren't cut out for education; try and find a job now; I'm sorry… We didn't have any technical type school in Stann Creek at that time. Vocational schools were only here in Belize City.
A: So, fourteen-year-olds…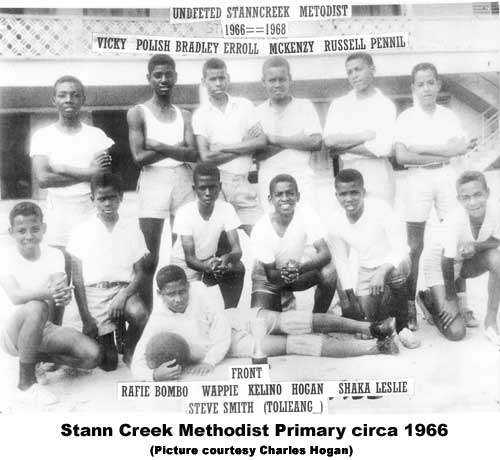 H: But our guys were not small, compared to kids today. And in game number 2… the (Catholic) Sisters… they had their bugle band marching before the game… they thought they were going to overthrow us… I mean, you could feel it in the air… they were getting more confident after that two-game tie… So, for game number 3, everybody was out at the field… hospital was shut down… patients were out on the verandah looking on… Police Station was shut down… Public Works sent all their players…
A: The game was on a Thursday?
H: Yes. And that Thursday, Pomona… all their workers came in on trucks… trucks… trucks…
A: Bwai! Primary school!…
H: Primary school… Da war now! This is a war!… Anyway, game number 3… whistle blow… Methodist score… Sacred Heart score… So, the game went on and on and on… And then Sacred Heart somehow…. somehow Sacred Heart got an edge over us, and they jumped us, 2 to 1… That's when we knew how many people were against us… Almost eighty per cent of the field was packed with people celebrating…
A: What! Well, there were more Catholic schools than Methodist schools in Stann Creek at that time, right?
H: Yes. There were more Catholics in Dangriga than Methodists. So, we had like twenty per cent that were almost in tears, thinking that Methodist is finished now… Alright? This was five minutes (to go)… the crowd took almost… let's say, two to three minutes to celebrate… You know, I was on the left wing, watching the whole scenario… I watched the Sisters jumping up with their cross, dancing…. Faada dancing … bugle band playing…
A: What kind of player were you at that time? You seem to be a sturdily built guy. You are no fancy player; you are a little bit of power too, right?
H: Everything… everything… I was on the left wing, telling myself, "It's not over until it's over"… "Referee, please take these people off the field." The referee didn't listen…. I said, "Referee," and I screamed… and the referee said, "One more word, and I will kick you out" (of the game).
A: The referee di go on so? Who was the referee? You don't remember..
H: Yes. The referee was… Ysaguirre… he is in the States right now, living in Lancaster…
A: You don't remember his first name.
H: I think Gerald Ysaguirre was his name. I got to remember because…
A: So, the youngster is getting too upstart.
H: Yes. So, I knew I couldn't say another word. All I was praying for now, was for the ball to come to me… I told myself that, "If I get this ball, folks," there was no way nobody on earth was going to take it away from me. I was so confident in myself and my dribbling ability… Somehow, my prayer was answered… A guy by the name of Big Vaughan cleared the ball from the back… I received… and I said to myself… "This is it; it's all over"…
A: But Buck Palacio was in their defence…
H: Buck Palacio was playing forward then, right wing. He and Brazilian were sharing the right wing, because they had good shots…
A: Oh, Okay.
H: They had good dribbling talents too, so it was some other guys in the back. So, I had to take on the whole defence… and this was the highlight of my career… because I knew I couldn't miss… and I knew I couldn't lose…
A: About where were you located when you received the ball?
H: I received the ball on the left wing, say like about thirty-five yards away from the goal. So, I had to move in, and make sure whenever I placed it, it's gonna be behind the net… And, like I said, that was it… I took them all on…
A: About how many men did you beat on your way toward goal?
H: Mein, I think it was about four… I don't know if anybody could still do that from the left wing… take on everybody, including the goalkeeper, and put it behind the goal… As I finished scoring… it was 2-2… what history was made again… the field was crowded again… It wasn't as many people (Methodist fans)… but they were celebrating because they knew there was going to be a game 4… And the people, they got their money's worth…
A: Three draw games!?
H: Three, back-to-back-to-back!
(to be continued)