The 3rd Annual Smart 13 & Under Football Tournament climaxed on Saturday, July 19, at the Yabra Football field where the 3rd place game was followed by the championship match, and then the awards ceremony.
In the 3rd place game which started at 10:00 a.m., Brown Bombers got a goal apiece from Jovann Ramos and Dion Cacho to defeat Collet Strikers, 2-0. Missing from the Collet lineup was their star defender, Shemar Bowen, who had already been selected for the Best Defender award.
The championship match between #1 seed City Boys and #2 seed Rising Stars was another "down to the wire" affair, as the 20-20 regulation ended scoreless; and the 5-5 overtime period also failed to produce a goal. So it was on to penalties, and two early misses by Collet allowed City Boys, who were perfect from the penalty spot, to clinch the championship with their fourth kick, winning by a 4-1 margin.
In the awards ceremony following the championship game, Smart representative Anthony Mahler was on hand to distribute individual and team trophies to the first, second and third place teams. City Boys are the 2014 champions; 2nd place went to Rising Stars; and 3rd was Brown Bombers.
Individual award trophies were also distributed as follows: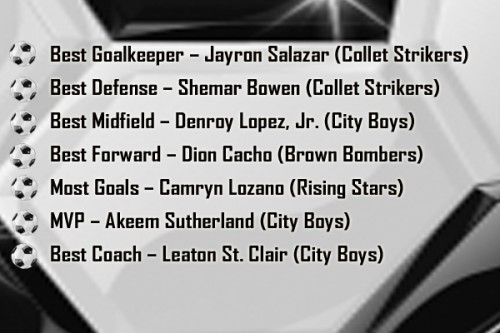 Tournament coordinator Stanley "Jordan" Reneau confirmed today that three of the kids from the Smart Mundialito – Dion Cacho, Jovann Ramos and Shemar Waight – will be travelling to Miami on Sunday, July 27, to participate in the FC Barcelona Football Camp, which runs from Monday, July 28, to Friday, August 1. This is the second year that Smart is sponsoring the trip to the FC Barcelona Camp which will include over 200 kids from across the U.S. Mundialito coordinators Stanley "Jordan" Reneau and Tyrone "T-Bone" Muschamp will accompany the kids to the Camp in Miami.