BELIZE CITY, Fri. Sept. 4, 2020– The Sanjay Pilgrim Coffin and Wreath Shop and a home located at the corner of Kelly Street and Freetown Road were completely destroyed by fire at about 1:20 this morning.
At the time, no one was in any of the buildings, and the owner of the coffin shop, Sanjay Pilgrim, was in police custody pending investigation into a criminal matter, the substance of which was not revealed.
The estimated loss to Pilgrim has not yet been established.
Kenneth Mortis, the Station Supervisor at the Belize City National Fire Service, told the media during a press brief this afternoon at his headquarters that the cause of the fire has not yet been ascertained, but the fire investigators have ruled out negligence with candles, an electrical malfunction and an unsupervised, lighted stove as causes, because no one was cooking, no candles were burning in the house and no one was in the house at the time.
An investigation has revealed that the fire started in a bedroom in the rear of Pilgrim's dwelling.
Mortis said that they have been told that the buildings were deliberately set on fire, but so far, they cannot find proof of the accusation, and must interview Sanjay Pilgrim to get some answers.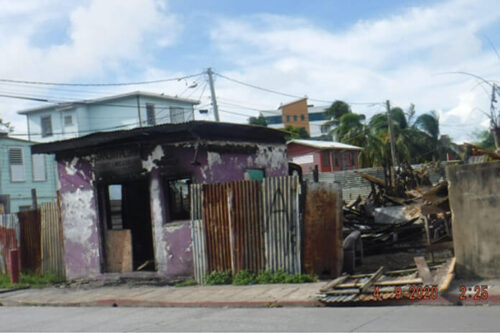 Mortis said that at about 1:25 this morning, Friday, they received a call that there was a fire at the corner of Kelly Street and Freetown Road, and on their arrival, they saw a timber house that had collapsed, and was engulfed in flames, and the Sanjay Pilgrim Wreath Shop was also engulfed in flames.
Thick smoke from the fire went into the homes of residents of the surrounding area, and high tension electrical lines were sparking and creating a high-risk situation for the firefighters.
Belize Electricity Limited technicians had to give a helping hand with the dangerous lines, and so the fire was put out. No other building in the area was damaged.
Mortis said that they will talk to Pilgrim as soon as he is released from custody.