DANGRIGA, Stann Creek District, Wed. Nov. 21, 2018– The Stann Creek Football Association (SCFA) had Week 8 games in its 1st Division 2018 Amateur September Season on Saturday, November 17, at the Carl Ramos Stadium. Both games ended in 2-1 scores.
In the opener on Saturday, Pomona Impacts got a goal each from Kevin Lino (9') and Tyrone Peters (79') to clip Pomona Warriors, 2-1. A late goal by Yibemeh Lewis' (90') avoided the shutout for the Warriors. In the nightcap, Kenyon Lewis (19') gave Silk Grass SG Ballers an early lead, but Hopkins Ibayani came back with goals from Eworth Flowers (36') and Errol Ogaldez (75') to secure the 2-1 victory.
It's a single round-robin regular season, where each team will play 8 games, and the top four teams will advance to the playoff round. And the competition is rough for those top 4 playoff spots.  (See Week 8 standings below.)
The playoff round will be a home-and-away format:  #1 vs #4, and #2 vs #3. From that round, the winners will play for first and second prizes, and the two losing teams will play for third.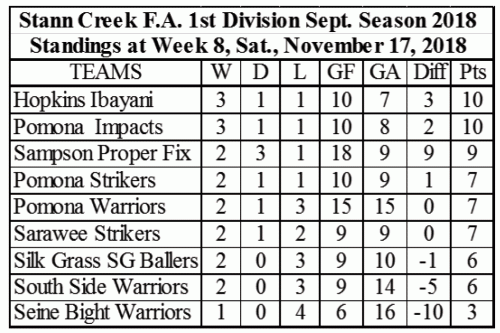 Upcoming Week 9 games:
Friday, November 23
6:30 p.m. – Pomona Strikers vs Silk Grass SG Ballers
8:30 p.m. – Pomona Impacts vs Seine Bight Warriors
Sunday, November 25
3:30 p.m. – Sarawee Strikers vs Sampson Proper Fix
5:30 p.m. – Hopkins Ibayani vs Pomona Strikers