The officer and another man escaped   a police roadblock in San Antonio; the officer was later caught
SAN ANTONIO, Corozal District, Mon. June 4, 2018– Constable Braiden Robateau, 22, of San Ignacio police, and three others, were busted with 23 pounds of cannabis on Saturday afternoon. All four persons have been detained at the Corozal Police Station, pending arraignment for drug trafficking at the Corozal Magistrate's Court.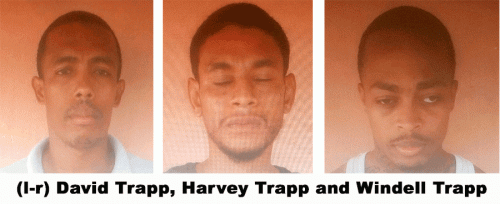 Police said that a joint operation by police, Customs Department officers and soldiers of the Belize Defence Force was being conducted in Santa Cruz in Corozal District, when the members of the team were told of a vehicle that was carrying drugs.
A roadblock was set up in San Antonio to intercept the vehicle. When the vehicle drew near and the occupants of the car saw the roadblock, however, the driver stopped at a distance, and he and another passenger got out of the vehicle, ran into the bushes and disappeared.
However, three other men who were also traveling in the vehicle were caught, when they also tried to escape. They were identified as Harry Trapp, Wendell Trapp and David Trapp, all of Santa Elena (their relationship to each other is not yet known).
Police began to look for the two men who had escaped, and the 4th man was found in San Antonio. He was arrested and identified as PC Raden Robateau.
When the car was searched, 6 parcels of cannabis weighing a total of 24 pounds were found. The men and the vehicle were taken to the Corozal Town Police Station, where the men were booked.  The car was impounded and the cannabis was labeled as an exhibit.
Police said that Robateau will also be charged internally by the Professional Standards Branch for breaches of the Police Code of Conduct. He is expected to face charges of conduct unbecoming of a police officer, bringing the Police Department into disrepute, and prejudice to good order and discipline.