BELIZE CITY, Wed. June 14, 2017–Hello, cricket fans! Thanks mucho to our sponsor of this year's cricket season, Bowen & Bowen. Under the auspices of the Belize National Cricket Association, the Harrison Parks 2017 Cricket Competition continued over the weekend.
On Saturday, the tie-breaker has come and gone, with Summer Fever sending Wicked 11 away. This game was played in Lords Bank in front of a large crowd. Summer Fever took to bat first, and the spirit on both sides was high, as this game will tell who goes to the semifinal and meet three-time champ Easy Does It. Summer Fever won the toss, and went to bat first. At the starting, the Wicked boys thought that this game was theirs, as the first wicket fell for 4 runs. Then the second fell for 10. Things changed a little, as the third fell for 60. The fourth and fifth fell for 65. So, the game was still looking good for Wicked 11. But now, with Conway Young in, who started to bat and score, Daren Rhaburn tried his best by taking 4 wickets; but his effort was fruitless in slowing down Conway Young. The rest of the inning went this way: 6 for 141; 7 for 211; 8 for 212; then the 9th batsman went in, and the score was pushed to 236. Fifty (50) overs were bowled. The inning ended then, leaving 2 batsmen to be out. Conway Young top  scored with 101, followed by George Hinds with 30.
After a break for refreshment, Wicked 11 took to bat. Everyone knows that much pressure is on the batting side. Well, the first wicket fell for 14. The Fever boys made a lot of noise. When the second batsman went in, things changed. Runs started to be made. During this time, to the end of the game, it was pressure all around. With George Hinds and Maleek Sutherland, who at the end of the game took 3 wickets apiece, the score by wicket went this way: 2 for 100; 3 for 110; 4 for 115; 5 for 137; 6 for 137; 7 for 159; 8 for 159; 9 for 159; all for 161. These two afore-mentioned bowlers really did a lot for their team. In that inning, T. Peterson scored 42, followed by Leonel Robinson with 39.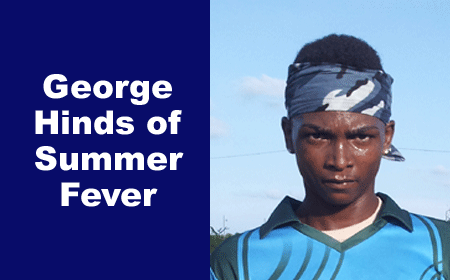 That game ended Wicked 11's chances of going any further for this season. Team Wicked 11, you all played very professionally this year. You all must be congratulated. Hats off to you! Better performance next year.
Summer Fever, you are doing great. Congrats to your team for reaching this far!
The tie breaker between Berlan and Excellence was not played due to acts of nature. This game is scheduled to be played this Sunday in Lords Bank.
On Saturday, Summer Fever goes to Lemonal against Easy Does It.
Best of luck, teams!
As I leave, let me remind you that we all must play the game with respect and love for each other. Senior players, set good examples for the youths to take pattern from.
Till next week, bye bye!