BELIZE CITY, Tues. June 19, 2018– Greetings from the Belize National Cricket Association (BNCA)!
Two tie-breaker matches were played on Saturday, June 16, to determine playoff positions in the Sir Barry Bowen/Harrison Parks National Cricket Competition 2018. I guess it's true what they say – the third time is the charm, as both Summer Fever and Police were able to win over teams who beat them twice in the regular competition. The results of these matches are as follows:
Summer Fever won over Rural Mix with a score of 135 to 133, with 7 spare wickets. For Rural Mix, Alwayne Hendy top scored with 32 runs, and Randy Rhaburn took two wickets.
For Summer Fever, George Hinds top scored with 44 runs, and Jermaine Baizar took 4 wickets.
Police won over Easy Does It with a score of 79 to 78, with 7 spare wickets. For Police, Howell Gillett top scored with 31 runs, and Keon Flowers took 5 wickets. For Easy Does It, Andrew Banner, Jr. top scored with 23 runs, and Glenroy Reynolds took three wickets.
The Regular Season Standings for Zones One and Two are as follows:
ZONE ONE:  1st Place – Police Cricket Club; 2nd Place – Easy Does It Cricket Club; 3rd Place – Summer Fever Cricket Club.
ZONE TWO:  1st Place – Wicked 11 Cricket Club; 2nd Place – BDF Cricket Club; 3rd Place – Sunrise Cricket Club.
As first place winners, Police and Wicked 11 will sit out the first round of playoffs. Second place in Zone 1 goes up against third place in Zone 2; and third place in Zone 1 goes up against second place in Zone 2 for a best-of-three games series. The winners of these series will move on to the semi-finals.
Therefore, the games scheduled for this Saturday, June 23, are as follows: #3 Summer Fever vs #2 BDF at Price Barracks, Ladyville; and #2 Easy Does It vs #3 Sunrise at Lemonal.
The BNCA extends congratulations to Team Police for placing first in Zone One! Congrats also to Easy Does It for placing second, and Summer Fever for placing third! Best of luck to all teams for the remainder of the competition!
Summer Fever and manager, Conway Young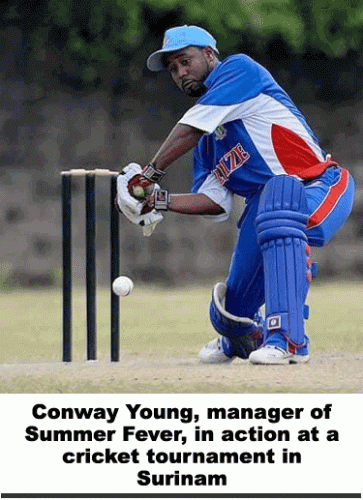 Last week I featured the first place winner in Zone Two. This week we go to the third place winner in Zone One to even things out! We would like to extend a warm congrats to Summer Fever for placing third in Zone 1. They have had quite a season, some ups and some downs, but were able to pull it off at the end and enter the playoffs.
My reason for choosing Summer Fever this week is for a chance to acknowledge the manager behind the team, Mr. Conway Young. This guy has quite a career in cricket. At the young age of 15 years, he joined the Belize National Cricket Team – the youngest player to join the male senior team! At 15 years, he also travelled to Disneyland and played with a combined team from the Bahamas. Conway was also selected to train with the West Indies U-15 National Team in Trinidad & Tobago. He has also worked with the Argentine Cricket Association as the understudy to the National Team Coach, and was invited to Falkland Islands by the Falklands Cricket Association to coach the cricketers there. Conway has travelled to numerous countries representing Belize on the National Team, where he served as Coach, Vice-Captain and Captain.  Some of the countries he travelled to are: Argentina, Panama, USA, Bahamas, Surinam, Costa Rica and Chile. He has received numerous awards at ICC sanctioned tournaments, but the ones that he holds dear are Best Wicket Keeper, Best Batsman, and Most Valuable Player. At the young age of 16, Conway scored 116 runs at an ICC tournament in Panama. He has played on numerous teams in Belize and scored several centuries, but his heart has always been with his home team, "Summer Fever," which he now manages, as he is unable to play due to his health.  However, Conway plans to get back on the field soon, and make more wonderful memories and records before he is ready to retire from the game he so loves.
Conway also served as the Cricket Development Officer of the BNCA for three years. He has always been more than willing to do his part and help out wherever he can. So, best of luck to Conway and Summer Fever, as they aim to capture the 2018 championship!!
It's gonna be a great weekend of cricket, folks; so, see ya either in Lemonal or at Price Barracks for some fun fun fun!!! Best of luck to the teams!! I'll give you the results next week.  Until then – adios!