BELIZE CITY, Mon. Jan. 18, 2021– Amandala joins the Cycling Federation of Belize and the whole cycling community in mourning the loss on Saturday of one of the sport's greatest performers during the decade of the 1980s, Conrad Vincent Smith. Vincent, as he was most often called, placed second back-to-back in the Holy Saturday Cross Country Classics of 1982, behind champion Alpheus Williams, and 1983, behind champion Lindy Gillett. Though never a Cross Country champion himself, the name Conrad Vincent Smith was synonymous with all the drama and excitement of our annual Cross Country Classic. No matter who got away from the pack in the early going of the race, as long as Vincent was in the chase group, it was a given that the get-away rider(s) would be caught, even if Vincent had to do the chasing alone, which he often did, as other weaker riders hung onto his wheel. His strength and determination sometimes seemed super-human, and his undying love for the sport saw him continuing into his veteran years still riding his bike to and from his long time residence in Burrell Boom.
An Amandala story from April 24, 1981, posted on Facebook by Evondale Coburn, while focusing on the first of three Cross Country championships by young Alpheus Williams, also featured a picture with the following caption: "Vincent Smith, leading Glen Gordon and Eugene King over Belcan (Bridge) here, placed fifth despite two serious spills." That was in the 1981 Cross Country. Such was the mettle of the man, Conrad Vincent Smith.
Thanks for the memories and the many racing thrills. Our sincere condolences to his relatives, many fans and friends. Rest In Peace, brother Conrad Vincent Smith.
Following is a Facebook post on the Cycling Federation of Belize page: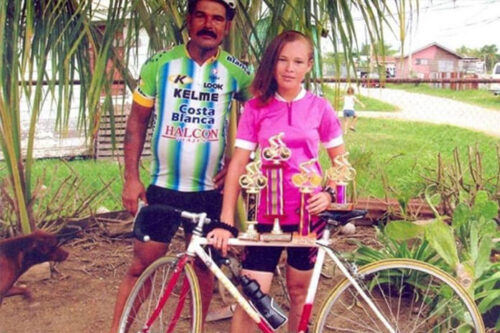 Cycling Federation of Belize Facebook page
Saturday, January 16, 2021– It is with profound sadness that we mourn the passing of Conrad Vincent Smith, seen here in this rare photo with his daughter, sadly passed away today January 16, 2021. We invite you to offer your condolences on this page.
Vincent, as he was fondly called, was a pacer. He place 2nd twice in the Holy Saturday Cross Country Classic next to Alpheus Williams and Lindy Gillett. He started his cycling career back in 1975 on a "Norman of England" coaster bike which he converted into a racing bike. He did a lot of his training for Cross Country in Mexico. In 1980, Vincent along with Mark Bowman, Andrew Smiling, Glen Gordon and Alexander Vasquez (both latter deceased), represented Belize for a week of cycling in Guatemala. 1982 should have been his year to win, but Vincent sprinted on the 3rd lap instead of the 4th lap; Alpheus went on to win. (Yvonne Robinson)