SEINE BIGHT, Stann Creek District, Mon. Jan. 13, 2020– Deandre Guefferro, 19, a laborer of Independence, has been charged for the horrendous murder of Mexican National, Alejandro Guzman Cruz, 46, the caretaker of a retreat in Seine Bight, that occurred on Tuesday afternoon, in his room at the retreat.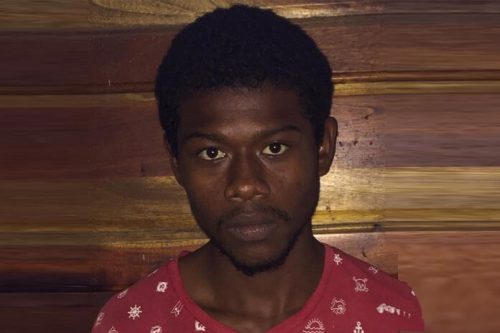 Deandre Guefferro
Cruz's murderer also stole some of his belongings.
Guefferro was arraigned at the Independence Magistrate's Court on Friday and was remanded until April, when he is to return to court.
His brother, 15, was charged with theft, and he has been remanded to the Wagner Facility for juvenile offenders.
Alejandro Cruz's employer, David Kafka, told the media on Friday that Cruz had been working with them for about 6 months, and he had known him for years.
Kafka said that Alejandro was willing to learn, and that he was a hard worker and was well liked.
Kafka said that Cruz, was in the office with them that Tuesday afternoon, and at about 2:30 p.m., he began to complain of being ill, and said that he was going to rest. He left the office and went to the retreat and found the brothers burglarizing his place of work.
There was a struggle between them and the two brothers got the better of Cruz and chopped him in the head and face, and stabbed him in his abdomen and chest multiple times, after which his hands were tied and he was put on a mattress and the mattress was set on fire.
The two brothers then escaped out of the house, but Cruz was able to muster enough strength to crawl off the mattress onto the veranda, but he fell down the stairs and suffered further injury to his head and body during the fall. He died shortly after.
Kafka said that Cruz's body has been cremated and his ashes handed over to his brother and mother, who traveled in from Mexico. He had arranged accommodation for them on their arrival in Seine Bight.
Commissioner of Police Chester Williams said that the motive of the brutal murder is robbery.
A worker in the area was passing the house to get some sand for construction purposes when he saw smoke coming from one of the rooms on the upper flat of the two-flat house. He then saw a man who was extremely bloody, with his hands tied, fall down the stairs, and he rushed to help him.
The mortally injured man identified himself as Alejandro Cruz, the caretaker of the property, and managed to tell him that he had been attacked by two dark-skinned men.
The worker quickly called police, who came and saw Cruz lying on the ground near the stairs in pools of his blood.
Williams said that their investigation led to a house in Seine Bight, where items stolen from Cruz's home were found. Guefferro was found in the house when police came, and he was arrested.
The second suspect, his 15-year-old brother, was later arrested.
Feature photo: Alejandro Guzman Cruz