BELIZE CITY, Mon. July 31, 2017–Dr. Patricia Rodney, the widow of Guyana's great historian, Dr. Walter Rodney, arrived in Belize yesterday, Sunday, to participate in Emancipation Day activities planned by the UBAD Education Foundation (UEF). Dr. Rodney was met at the Philip Goldson International Airport by UEF chairperson, YaYa Marin Coleman, and UEF member, Pambana Bassett.
After she arrived in Belize, Dr. Rodney met with all the organizers of the Emancipation Day event. The meeting took place at the Library of African and Indian Studies, located on the Kremandala compound.
"That was really good, because we had a chance to discuss and talk," Dr. Rodney said. "After the meeting we went to Celina's Café at the Bliss Institute for the Performing Arts. It was a talent night full of poetry, Indian dancing. It was just people performing. It was excellent."
"Today we had lunch by the sea at Vegan Bites," Dr. Rodney said about her activities today.
After lunch Dr. Rodney met with Kremandala chairman Evan X Hyde. "That was really excellent. I think we connected immediately," Dr. Rodney said about the one-and-a-half-hour meeting.
"We just finished an interview with KREM TV, and tomorrow morning I will be on the Wake Up Belize Morning Vibes (WUB) show," she informed.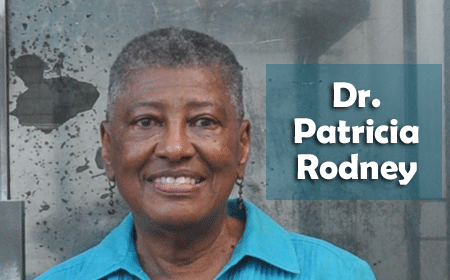 The theme of Dr. Rodney's address that she will deliver tomorrow, Tuesday, is centered on the health of Afro-Belizeans. Amandala asked Dr. Rodney how she was able to gather the information for her topic.
She explained that she is a sociologist by training, and her area of expertise is public health. "I do a lot of work around women's health," she said, "so if I am asked to give a talk, whether it is to two people or a hundred, I do the research. So I looked at a lot of information, not only institutional reports, not only your Ministry of Health report, your Ministry of Health plan. I looked at UNICEF; I looked at the WHO plan and PAHO report."
Amandala asked Dr. Rodney if anything had been done to shed any kind of light on who was actually responsible for the assassination of her husband.
"Well, we always knew who was responsible and that my husband didn't kill himself or my brother-in-law wasn't involved in his killing," she said. "There was a commission of inquiry under the former government of President (Donald) Ramotar that put together a 3-man commission. In 2016, the government in Guyana changed and so the commission's work was halted. They were forced to produce a report without calling the other witnesses, they were supposed to call," she said.
"Anyway, I think they produced a very comprehensive, detailed report, which implicated the Forbes Burnham administration from the highest level of the services, the army and the police for the assassination of my husband. The current government of Guyana took several days to release the report. It isn't publicly released. I was sent a copy. And a copy was taken by the Opposition to parliament for the government to acknowledge and receive the report. The government only acknowledged the report; they did not accept the report. As far as I am concerned, the family is still fighting for justice. We have had several discussions, forums around the world. In Atlanta, at the Walter Rodney, we hold an annual symposium. We are now into our 15th annual symposium. The report is available, if people are interested. It is available at the Walter Rodney Foundation website wwwwalterrodneyfoundation.org. It is also available at the Robert Woodruff Library of the AUC Center in Atlanta, Georgia. Walter Rodney's papers are housed in their archives. Every year there is also the Walter Rodney Speaker Series that students take for credit, and we bring in speakers from around the world," she further detailed.
Dr. Rodney told us about two children's books, Koffee Badoo out of Africa and Latch Me out of India, that her husband had written. "It is a disgrace that my husband's books are not in the schools of Guyana," she said.
She explained that the reason her husband wrote the books was so that the children of Guyana could start to understand each other. "If you don't understand your history, then you don't understand other people's history, and you don't respect. So he was building respect among the population. The government banned the books and he was supposed to read those stories on the radio and somebody else read them. We can't even find the tapes, because they were scared of people getting knowledge. I think his greatest contribution to Guyana is the first time he brought the races together, the Indian and the African populations. That in itself was dangerous. He never carried a gun, but his words. You can kill a man, but you cannot kill his words or his spirit," she said.
Dr. Walter Rodney was assassinated by means of a car bomb on June 13, 1980. His wife told Amandala that his family doesn't celebrate the assassination date of the prominent historian and political activist. They celebrate his life and his work.