BELIZE CITY, Tue. Apr. 28, 2015–Before I go into the Harrison Parks Cricket Competition 2015, under the auspices of the Belize National Cricket Association, I need to mention a very good old friend of mine, hailing from the beautiful village of Bermudian Landing – Mr. Elston Wade, Sr., a.k.a. Mr. Bes (best).
I have known this good gentleman from my young years. I have not seen him play the game of cricket, but he has a son that plays the game. That son is Jerome. I can testify that he is a strong follower of the game; not only a follower, but a promoter in years gone by. Anywhere he is seen, you will see him dressed in cowboy hat, checkered shirt, jeans pants and boots. He is a strong debating person, especially when it comes to horses or cows. Well, he is a rancher by profession. What he stands for is discipline and respect for all; more so with the underprivileged. Although he lives in Bermudian Landing, and he goes out to cheer for the home team, you could always hear him giving encouragement to the visiting team. He is not a problem maker, nor does he encourages, it.
Because of the way he conducts himself, and the respect he gets, I asked him, "What's the formula?" He said, "Mr. Young, once you respect yourself wherever you go, and whoever you're with, respect will follow. Be careful of what you say, and to whom."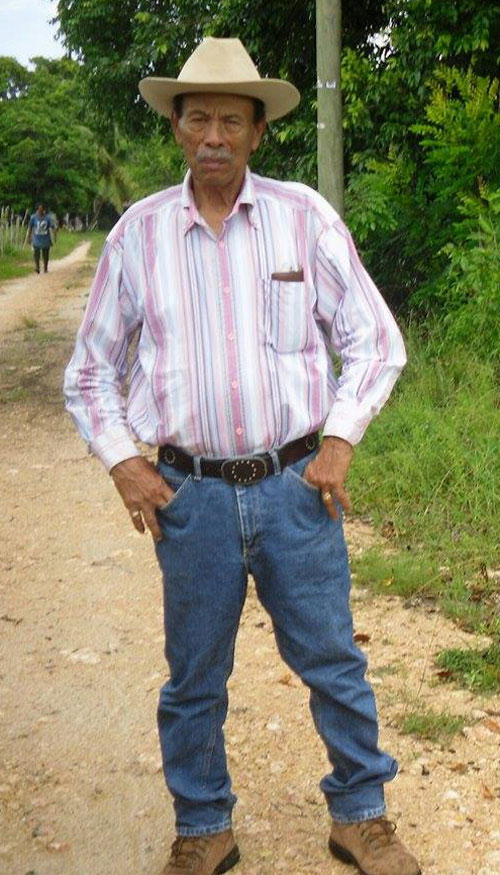 I have visited him at his farm on occasion, and was very pleased to see him taking care of his many animals, including cows and horses. He is a very good family man, with wonderful children, that are doing well in society, including Elston Jr., Post Master General, and Bernadine, who was a Cpl. in the Police Department. The rest, please don't get jealous, for you are all being recognized personally.
I remember, some years ago I was driving a passenger truck from Rancho to Belize City. When Mr. Bes learnt of that he gave my brother and me jobs that needed to be done by truck. There were two other trucks on the run in the area before us. I asked him why he was doing it. He said, "Mr. Young, you have just started in the business, and the others are already established. You all need help, and I'm going to help you with my two cents." What he has done then had gone a long way, to realize where true friends are. Sir, you were a friend then and a friend now.  That is the Mr. Bes I'm talking about.
Some years ago, I was inside a bar socializing, playing dominos with friends.  Mr. Bes came in, going to the rest room to ease himself. Just joking, I said loudly, "You could know all men who take Viagra, for they go to the rest room often." Mr. Bes turned back and went outside. That sends a message.
Friend, you have done a lot for yourself, your community and those you come in contact with. I wish that you be blessed in all your undertakings for many years ahead. For all that you have done for your fellowmen, a big THANK You.
To the games that were played over the weekend.  At Lemonal, Easy Does It put a trashing on Excelsior. Excelsior batted first and scored 160, with Lloyd Casasola scoring 43, while Orlando Banner took 6 wkts for Easy Does It.  The home team went to bat, and at the fall of 4 wkts, they surpassed Excelsior's score with 165. Herbert Banner scored 51, while Justin Revers and Anthony Fermin took 2 wkts each.
At Boom, Cahsu Medicos lost to Brave Union, 100 to 98, with 1 spare wicket. For Cahsu Medicos, Jawaha scored 29, and Nishawith took 6 wkts.  For Brave Union, Edison McFadzean scored 11, while Shane Young took 7 wkts.
At Crooked Tree, Berlan lost to Brilliant 113 to 114, with 2 spare wkts. For Berlan, Leonard Russell scored 17, while Charles Stamp took 3 wkts. For Brilliant, Jermaine Smith scored 29, while Glenroy Reynolds took 3 wkts.
At Flowers Bank, Suga Boys lost to Wicked Eleven, 66 to 196. For Suga Boys, Sonny Wade scored 9, and James Wade took 4 wkts.  For Wicked, Shelton Robinson scored 47 and also took 3 wkts.
At Lords Bank, Sunrise did a good showing by lashing Uprising, 85 to 84, with 5 wickets to spare. For Uprising, Aaron Bull scored 16, and Dwayne and Winston Hendy took 2 wkts each.  For Sunrise, Joni Chilu scored 23, while Saggy took 4 wkts, giving up 20 runs.
At Rancho Dolores Western Eagles won by default, as Bright Star could not field a team for that day.
At Double Head, Excellence batted 330 in 50 overs. Police went in, and at 6:00 p.m. and 37 overs, scored 197 for 5 wkts.  I cannot give the winner at this time, as matters are being ironed out. For Excellence, Sydney Martinez scored 66 and took 3 wkts. For Police, Sylbert Martinez scored 61, while Austin Gillett took 3 wkts.
The following games are scheduled for Saturday, April 2:
Zone One – Excellence vs Excelsior at St. Paul's; Bright Star vs Police at Belmopan; Western Eagles vs Easy Does It at Lemonal.
Zone Two – Cahsu Medicos vs Brilliant at Crooked Tree; Brave Union vs Uprising at Isabella Bank; Berlan vs Suga Boys at Carmelita; Wicked 11 vs Sunrise at Lords Bank.
Once again I'm appealing to players please respect the umpires' decisions. Stop cursing these men that are trying to do a good job. You cannot bowl, bat, field and be umpire at the same time. Please stop being ignorant. When you act or behave in those ways, it does not look good on you. REMEMBER, WHEN YOU LAUGH, EVERYONE LAUGHS; BUT WHEN YOU CRY, YOU ALONE CRY.
Thanks for reading.