Photo: (l-r) Felisha De La Fuente, Aldair Tillett, Alisha Tillett and Janina Tillett, deceased
by Charles Gladden
YO CREEK, Orange Walk District, Mon. Mar. 13, 2023
On Saturday, March 11, 28-year-old Aldair Tillett from Trinidad Village in Orange Walk; his common-law wife, 27-year-old Felisha De La Fuente; their daughter, 4-year-old Alisha Tillett; and his sister, 18-year-old Janina Tillett, a fourth form student of Belize High School of Agriculture, all perished in a road traffic accident on the San Antonio Road out of Orange Walk Town on Saturday, March 11.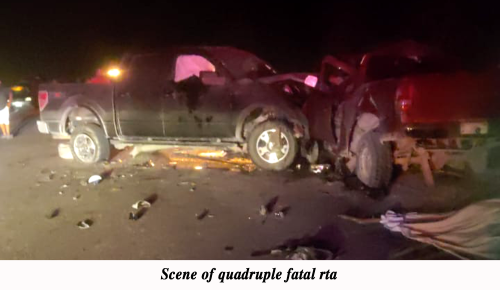 Initial reports have indicated that just after 8:00 p.m., Aldair Tillett was driving his Ford Ranger vehicle in an east-to-west direction and was accompanied by his sister, his common-law wife, and his daughter when they collided with an F150 pickup truck being driven in the opposite direction by 35-year-old Byron Tillett of San Lazaro Village, who was being accompanied by 35-year-old Alexis Guemez. Both vehicles were extensively damaged.
Aldair Tillett and his accompanying family members all perished instantly at the scene due to the collision; meanwhile, Byron Tillett and Guemez were rushed to the Northern Regional Hospital for medical treatment.
Communications Director for the Belize Police Department, ASP Fitzroy Yearwood told members of the media that investigators have indicated that one of the drivers lost control of their vehicle, which caused the collision.
The sister of Aldair and Janina, Shanini Tillett, told local reporters that her brother was at their mother's home at around midday for lunch, and before 5:00 p.m. he and Janina went to pick up De La Fuente after work, as per usual.
Shanini said that Aldair wanted to go to Botes and had begun drinking, but wasn't drunk.
She spoke to reporters in Spanish, which was translated, and said that they treated De La Fuente and her mother as members of their family.
"My sister-in-law came here, and we always took care of her. She was like a daughter to my mother, because her mother is always working and made her alone and so she got with my brother. They live here until when my niece was only months old, and that's when they moved out, because her mother stopped working and took care of the baby. Her mother came to live with us and became a member of our family, and up to now, we told her that she's a part of our family because she stayed by herself," she said.
A childhood friend and classmate of Janina Tillett, Lucero Palencia, described her as loving and spoke highly of her. Palencia noted that the two were scheduled to meet to finish some work.
ASP Yearwood noted that an NIP (Notice of Intended Prosecution) was given to Byron Tillett, but no timeframe has been given to indicate when charges will be levied upon him.