BELIZE CITY, Thurs. Nov. 25, 2021 — Verdes FC remains undefeated at the top of the standings after five weeks of competition to end the First Round in the Football Federation of Belize (FFB) Top League 2021 double round-robin tournament, where the six participating teams have played all their games so far in front of an empty Isidoro Beaton Stadium in Belmopan, one game on Saturdays and two on Sundays.
On Saturday, November 20, Verdes FC kept their winning streak intact with a 3-0 victory over San Pedro Pirates FC, courtesy of goals from Jordy Polanco (36') and Paraguayan import Junior Vargas (43' & 68').
In Sunday's opener, a goal in each half from Morvin Budna, Jr. (23' & 73') gave Garden City FC their first win of the tournament, as they defeated Wagiya SC by a 2-0 score.
And in the nightcap, after taking an early lead through a goal from Rene Leslie less than half a minute after kickoff, Altitude FC only managed a 1-0 lead over Caesar Ridge FC at the intermission; but second half was all Altitude, as they poured in 5 more goals on their way to a 6-nil victory. Sharing the scoring for Altitude FC were Rene Leslie (1'), Colombian Miguel Garcia (52'), Jardehl Muschamp (69' PK), Luis "Baaka" Torres (73'), Jonard Castillo (79') and Gabriel Ramos, Jr. (82'). Baaka's goal, from a free kick just outside the eighteen from the right side, was a beauty, as members of the well-set wall by Caesar Ridge defenders were left in shock by Baaka's bending right foot shot whose trajectory saw it travelling around the wall heading three feet outside the goalpost, only to swerve just inside the post at the top right corner. Young Muschamp's penalty, which he had earned after being taken down deep inside the Caesar Ridge eighteen, was executed with the confidence and precision of a much more experienced player, a low dagger near the right goal post that left the keeper standing.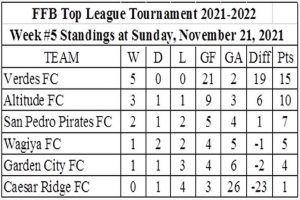 2nd Round begins with Week 6 schedule:
Saturday, November 27
4:00 p.m. – Garden City FC vs San Pedro Pirates FC
Sunday, November 28
3:30 p.m. – Caesar Ridge FC vs Verdes FC
6:00 p.m. – Altitude FC vs Wagiya SC