BELIZE CITY, Mon. June 8, 2020– The 1960s era of football in Belize has been a most difficult period to pin down, where the particular champions are concerned. Records are not available, so we have to keep trying to "pick the brains" of veteran players from those years who can give us the pieces to put together.
We have also been researching the names of notable players from the different periods, and we were extremely pleased to get a glimpse into the Late-1950s to Mid-1960s period from one of the best goalkeepers of that era, Mr. Charles Gardiner, known to fans as Charlie Gardiner.
Along with a number of football names from that period, Charlie also shared some information about his playing days, the teams he played for, and particularly some little known facts about the Landivar team, which won a number of championships.
Beelisle recruits Charlie
Charlie said he never played in the Junior football competition, but was recruited directly to Senior football, starting with MYA, then Excelsior. At first he played out on the field, but later transferred to being goalkeeper. Interestingly, a Landivar teammate, Angus Vernon had also come straight out of Wesley College, to play for the senior Excelsior team before moving on to Landivar. From Excelsior, Charlie was recruited by then Landivar coach "Beelisle" (the artist Louis Belisle) to replace one Ronald Bowden in goal.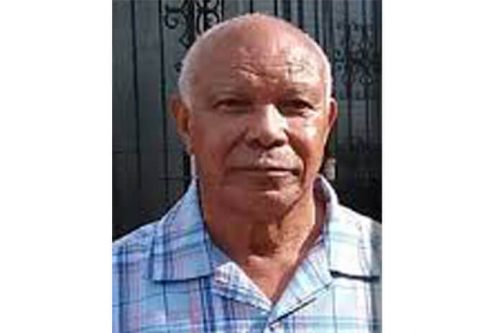 Charlie Gardiner
As an interesting tid bit, Charlie said that the Landivar team was originally formed from workers employed in the construction of buildings at the Landivar campus. They used to lose by some big scores to other top teams in the competition; until Beelisle took them over and also brought in a few good players, including one Crispin Blanco, who had played semi-pro football in Honduras. They won one championship under Beelisle.
According to Charlie, "When I started playing for Landivar, Beelisle was the coach. He and the older players had a problem, and he quit. Mr. Hoy was a fan (of the team), and told us that he got a sponsor for us that would give us uniforms, shoes and balls – (it was) the Guatemalan consul. Mr. Hoy was the manager; Angus Vernon was player, captain and coach."
(The records handed down to us, some of which Charlie queries, by then Football Association secretary, Phillip S. Hall, show a first Landivar champion in the 1952-53 season. The rest of that list included: 1953-54 – MYA; 1954-55 – MYA; 1955-56 – MYA; 1956-57 – MYA; 1957-58 – Diamond A; 1958-59 – Dunlop; 1959-60 – Landivar; 1960-61 – BEC; and 1961-62 – BEC. We have noted before that only the Knockout was played in 1961-62, because of Hurricane Hattie on October 31, 1961.)
If I understood Charlie correctly, Beelisle coached the team to a championship before walking away; that would be the 1952-53 season according to the above records; but Charlie thinks Landivar may have first won around 1954-55. In any case, that would mean a few years before Landivar would see a championship again. In that time, according to Charlie, who said he joined Landivar the year following their first championship, he had picked up quite a few tips on the art of goalkeeping from the Honduran Crispin Blanco, who was a defensive player.
Interestingly, Charlie noted that the top level football in Honduras in those years was well above that of our Belize teams. They were already playing semipro ball, he said; and the teams that our visiting Belize teams would play in Honduras were usually not from the top league. So, it figures that when our young players like "Maya" Ortega and Alwyn Smith travelled to Honduras for football "internship," they came back with skills that made an impact in Belize. Also, he noted that the Queens Park Rangers team of those years was head and shoulders above our other local teams; they didn't play in our city competitions, but occasionally would play an exhibition match. He recalled one where, for example, they jumped to a quick 2-nil lead, and thereafter, they spent the rest of the game just "knocking the ball around," avoiding a big-score embarrassment. At that time, Charlie said at least five of the Queens Park players were directly from Honduras. In later years, e.g. the seventies, the management structure had changed; at some point, the team, comprising of all home grown players from the south, became known as the Stann Creek Selection. (We will need more information on when exactly the Queens Park Rangers dynasty officially ended.)
After Landivar secured their new sponsorship, Charlie continued: "We went to Guatemala in 1958, where we saw how the ball is passed near the feet of players. Angus told us he will show us how it is done; and he did. He gave up the captaincy to me (Charlie Gardiner), but he still was player/coach. He taught me how to pick and set a team. He could see when a team was giving us a problem, and could fix it. He gave up being the one to get a goal in favor of others. Angus and I retired in 1964, and Keith (Gardiner) became captain."
Angus, Charlie and Keith
Now, the following is an interesting sequence of events; because these were years when players were leaving "hand over fist" for the states (USA), affecting the "balance of power" among the top teams. From all our sources so far, Brodies had won back-to-back seasons in 1962-63 and 1963-64.
The 1964-65 season was well under way, according to Charlie, and things were not looking good for his former team.
"Landivar was in last place; so Angus went back (to play), and they came in 3rd to last. Angus then came to ask me to play in the Knockout, where we would be facing BEC, the regular season champs." (So, BEC was the 1964-65 regular season champs.)
At the time, Charlie observed, BEC was racking up big scores on a number of opponents.
"He (Angus) said that I (Charlie) can hold BEC down to score 2 goals, and we will win; because Keith (Gardiner) will score 3; and he did. (And in the Knockout finals) Keith scored 2 goals, as we defeated Brodies, 3-1, and won the Knockout championship. We then won the 1965-66 regular season and the Knockout."
Charlie reflected on some events earlier, that saw the game developing in the area of strategy and playing formations, as well as some still burning details on that first Dunlop championship.
Playing 4-2-4
"Mr. Hoy had studied Brazil's (1958 World Cup champions) set-up, and told us about it. (Brazil introduced the 4-2-4 formation.) It worked in the first game; but not in the second game. He read the book and told us we were not covering. Angus then changed our players around to suit the new system. That caused Mr. Murphy (BEC manager) to also change the BEC system. That was around 1959." (Landivar won the 1959-60 season; after which BEC won two seasons consecutively.)
Clashes with Dunlop
"In the year that Dunlop won the season (1958-59); in the first game we were 1-1 with about 5 minutes left in the game. Dunlop got a corner from the right side. The referee went to the goal line on the right side, and the corner was kicked. Sadler held me in the far corner around my waist. Reds scored in the right while I was being held."
Charlie describes events in their second meeting with Dunlop to end that 1958-59 season.
"In the second game, we needed to win the game to win the championship. (It was points total; no playoffs in those days.) We were up 1 to 0 with about 5 minutes left. I knocked the ball (from a centering pass), and Bembe, now called the Mugga, kicked me in my side. The ball went half-way between the penalty and half line. Dunlop got the ball and shot; Shamba (John Dominguez) stopped the ball, and caused a penalty. Dunlop tied the game. We had the same ref as in the first game. He said I was faking getting hurt. The Mugga told the ref that he kicked me. I know (because he immediately apologized to me) that he did not mean to kick me."
Charlie also observed that he thinks that is how the nickname "Mugga" originated, as previously Louis Garbutt was only known as "Bembe". But he insists that Mugga was making an attempt to kick the ball, and didn't intentionally kick Charlie.
So, we have closed the gap of missing champions to only a few years in the latter sixties. Charlie said that he thinks Landivar was second in the 1966-67 season; but who were champs? Brodies? BEC?
However, he still questions some of the earlier championships in the early 1950s as listed in the Souvenir Programme for the St. George's College Old Boys visit from Jamaica in 1962.
Charlie remembers "Cador"
I asked Charlie if he recalled a player by the name of Anton "Cador" Thurton, whom we had interviewed previously in Amandala, and who had said he played for 3 years with Landivar.
Charlie: "I always talk about Anton. He was a great player. I used to kick penalties, and never missed any. I kicked even after I became the goalkeeper. After I saw where Anton kicked them (I was the captain then), I had him kick all the penalties, and he never missed any. We are the only kickers (that I know) that never missed a penalty in his years of playing. Thanks for reminding me. He was so good that he could pass a ball around a player (curving the ball with 'sides'). He learned that from a guy named Nelson from Honduras, a good player who was going to SJC."
Feature photo: 1959-60 champions, Landivar