BELIZE CITY, Thurs. Aug. 18, 2016–Before a store attendant in Belize City could ask her customer how she could assist her, she launched right off into trying to recruit the customer into the "dream catchers" pyramid scheme that has become rampant across Belize, although it has been banned in places like the UK, where organizers and promoters could face jail time as well as orders to pay fines.
The scheme, commonly known as "dream catchers," "give and take," and "gifting circles," is often promoted under the guise of a women's empowerment circle. It has been propagated on the cayes, and other parts of the country, taking root faster than the "Charlie, Charlie" craze which hit Belize schools last year.
The truth is, the scheme has been around for much longer, and it has taken various forms in places such as Mexico, Canada, and the US. It is commonly perpetuated by well-to-do socialites who plan parties to promote it, and in Belize it is no different, as we have heard of ranking educators and even persons in the legal profession being a part of the scheme.
Those who participate are sold on the idea that their investment, ranging from $500 to $2,800, depending on the version of the scheme to which you are invited, will yield dividends as much as 8 times more than a person invests, and all the new recruit has to do is to bring new recruits, in most cases, two other persons willing to similarly put their money into the pool.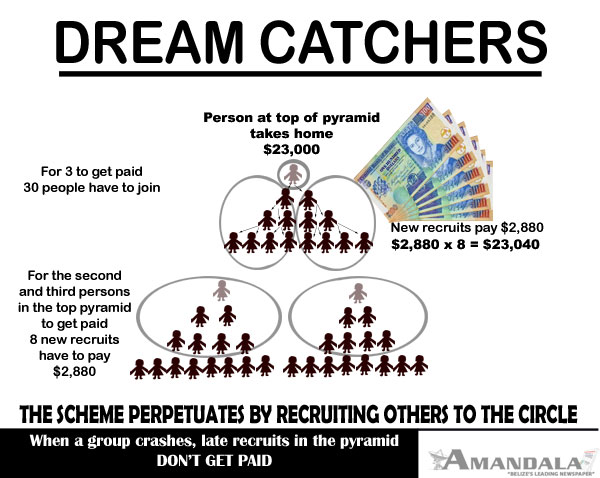 If every woman in Belize, numbering roughly 185,000, were to participate in the scheme, only about 18,000 would receive the promised return based on the most common formula being propagated. The rest would be left "holding the bag"—an empty bag for that matter.
In the UK, there is a law that covers these schemes under "unfair trading." Belize's Acting Solicitor General, Nigel Hawke, told our newspaper that whereas there is no specific law, as in the UK, the common law position in contract law would apply. He said that both civil and criminal proceedings could be applied in cases of fraud related to the scheme.
However, no report has yet been made to police, according to Police Sergeant Lillian Lopez, Financial Investigator at the Financial Intelligence Unit (FIU). Lopez says that if the scheme leads to fraud, when people do not get their promised returns, it can become a police matter. She said that the police would inform the FIU if there is such a report of fraud.
Lopez said that fraud happens when someone gets another person to do something or give them something through lies, deceit or trickery, so in regards to the pyramid scheme, it is a type of fraud because people are tricked into paying by being promised an unrealistic return on the investment, and the organizers know that they will not be able to sustain all those people enrolled within that pyramid.
Although there is no specific law outlawing pyramid schemes in Belize, Belize's Criminal Code was amended in December 2013 to cover an offense of fraud, Lopez told us.
In June, after learning of the proliferation of the scheme, the FIU issued an alert saying that "…one or more fraudulent investment schemes may be operating in Belize." It advised members of the public to, "Report any suspected cases of fraud to your nearest Police Station."
According to the FIU, "In a typical scheme, the promotor(s) induce persons to invest small sums of money in the scheme by promising them a substantial return in a very short time. Potential victims are often encouraged, or required, to bring their friends into the scheme as well."
The groups hold social events at which persons receive "gifts"—money bags. They are urged to save some, and to put aside a portion to cover, for example, cases where their recruits may fall out of the scheme. Some are encouraged to reinvest, keeping them in the circle.
The FIU warns that, "Any payout is made from money contributed by later victims…."
In a case that was prosecuted in the UK, participants paid £3,000 and introduced two friends who also paid that amount. Once the chart of 15 recruits is filled, the eight people on the bottom of the chart pay their money to the person at the apex, in this case called the "Bride," who receives £24,000 on a silver platter, according to a story published in The Telegraph.
How the new recruits get the money is a different story. In the UK story, it had been alleged that the organizers encouraged recruits to "beg, borrow or steal" if necessary, so that they would have money to put into the scheme. We have heard of persons in Belize who have borrowed to join, and some of them have yet to receive their promised return.
As the accompanying chart shows, for the initial person to reach the apex, 14 recruits have to be brought in. There are reports that the scheme may have been introduced on San Pedro, where problems brewed over the scheme. The FIU told us that they do not know where in Belize the scheme started.
"It is all over the country; in specific areas like Orange Walk, Dangriga, Belize City, and it was also in San Pedro," Lopez told us.
"It is a risky investment. Some people will benefit," Lopez said, adding, though, that it is set up so that "early birds" or those at the top of the scheme can and will get paid, but usually those at the middle or bottom may not receive any returns.