We all know that Belize is a small place. Personal friendships, as do personal antagonisms, spring seemingly out of nowhere sometimes, and they don't have to have any particular logic to them.
In this column, I have to discuss the personal antagonism between the attorney Godfrey Smith and myself, because I want to focus on the general election campaign in Pickstock in February 2008, and I want to question the consistency of the attorney Wilfred "Sedi" Elrington, to put it mildly.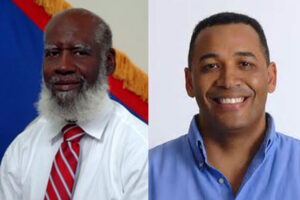 How Godfrey and I became alienated, or sometimes even hostile, is almost inexplicable to me, because while his older brother Francis, the orthopedic surgeon, was studying in Cuba in the early 1980s, we held several cordial conversations at my First Street home (King's Park) during Francis' breaks from his medical studies. To be truthful, I don't think I knew who Godfrey was until he became an attorney and joined the Barrow & Williams law firm, in the early 1990s, if I remember correctly.
The alienation between Godfrey and myself involved some personality, some politics, some basketball, and the Good Lord knows what else. Things began coming to a head when he held a powerful position in the Opposition People's United Party (PUP) general election campaign of 1998, and sent advertisements attacking the ruling United Democratic Party (UDP) Deputy Prime Minister, Hon. Dean Barrow, to our newspaper, advertisements for which we were sued by Hon. Dean's younger brother, Denys.
I sent the lawsuit papers to Godfrey, because I felt no responsibility for the ad content. Apparently, Godfrey did not defend the suit, for whatever the reason(s), and one day a few months after the PUP won the August 1998 general election, Denys Barrow wrote me to say I owed him $10,000 for libel damages involved with the aforementioned Dean Barrow lawsuit. Godfrey had thrown me to the wolves, so to speak. That was my impression.
Basketball entered the picture around the turn of the century when Godfrey became a big man, probably the biggest, in the BTL Nets semi-pro organization. Remember, Lord Michael Ashcroft owned BTL at that time, and he and Godfrey had become very good friends. It was important to Lord Ashcroft's huge ego that the Raiders be defeated, and the burden of proof fell on Mr. Godfrey.
A few months before the March 2003 general election, Godfrey made a big-time political move when he contested the candidacy for the PUP's Pickstock constituency. Rt. Hon. George Price was bowing out, and his nephew, Bobby Usher, was running to replace him as PUP Pickstock boss. Remember now, Prime Minister Said Musa was very close to the Usher family, and in support of Bobby. (As Said's friend, I supported Bobby.) This was a very bold move by Godfrey. And, he won big. He went on to win the Pickstock seat, and became a part of the PUP's 2003–2008 Cabinet. Godfrey Smith's political future appeared exceedingly bright.
But, in the words of Gian Maria Volonte (from the Eastwood Western), "he ran into me." This was G-7 in August of 2004, and G-7 is a subject neither the PUP nor the UDP want to talk about, for different reasons. I will have to deal with this matter in detail sometime soon. But, surprise, surprise, this column is not really about Godfrey Smith: it's about Sedi Elrington.
Godfrey was one of the 7 PUP Ministers who rebelled against Ralph Fonseca's handling (or mis-handling) of public funds in the Musa administration. But then, he cut a deal with Musa/Fonseca, because when Mark Espat was dashed out of Cabinet and his Ministry of Tourism in late December of 2004, Godfrey inherited all his portfolios and responsibilities. The Smith star kept shining brighter and brighter.
It occurred to me at some point, and remember I am a member of the Otis Redding/Aretha Franklin 1960s generation (R-E-S-P-E-C-T), that Godfrey Smith and I were on a collision course. So, it was in the flow of things that I supported Sedi, the UDP Pickstock candidate who was running in 2008 against Godfrey, the incumbent whose massive financial support from the Lord was obvious.
Sedi won, and almost immediately accepted a $200,000 gift from Lord Ashcroft, which he used to open the Samuel Haynes School of Excellence. I was frigging stunned!
For the last few weeks Mr. Elrington has been writing a personal column in The Reporter. The sanctimonious and self–righteous tone of the Sedi column is unbelievable, and the man Nuri Muhammad recently took him up on some of his column positions in a personal letter to The Reporter.
If you read Mr. Elrington's column, you would have no idea he just spent 13 years as a high-ranking Cabinet Minister in the Dean Barrow UDP government. For instance, he brought up the national service corps idea a couple months ago, an idea which C. B. Hyde introduced from the early 1990s. Sedi brought up the topic as if it were his own idea and as if it were an original concept. I shook my head in disbelief.
Last week in his column Sedi wanted to know why Belize City Southside youth cannot be peaceful and productive like Mennonite youth. I am writing this column because I just got tired of listening to this multimillionaire attorney, a Belizean who made many of his first millions alienating Belizean lands into the control of people from Taiwan and Hong Kong in the first UDP administration (1984-1989).
Belize and the world respect wealth. Therefore, Sedi Elrington must be respected, because he is wealthy. But there is almost nothing coming out of his mind which has a positive relevance for the masses of Belizean youth. This is as the power structure designed it. The individual native can become successful, but the bottom line is that his perspective on life must be 100 percent selfish. Such is Sedi's perspective. And, I suppose you can throw in Godfrey's as well.
Power to the people.