BELIZE CITY, Sat. Nov. 23, 2019– The Future Football Club U-10 & U-13 Little League Football Tournament, which kicked off on Saturday, October 5, with six U-10 and seven U-13 teams, at the ITVET (Old Technical) Football Field in Belize City, has completed its regular season round-robin competition with 4 games played today, two U-10 and two U-13.
In the opener, (U-10) Reality Youths dropped Poor & Famous, 4-0, with 2 goals from Shakeem King and 1 each from Dennis Nunez and Gilyjon Nunez. Game 2 (U-10) saw Belize United with the 2-0 win over Future FC, courtesy of a goal each from Antwan Latchman and Barrack Morey. In game 3, (U-13) Survivors edged Sports In Education, 2-1, with Tishawn Gillett netting both goals for Survivors, while Kyle Hemsley scored for Sports In Education. And in game 4, (U-13) Caesar Ridge crushed Belize United, 6-2, with 2 goals from Tom Moguel and 1 apiece from Melson Herrera, Raymond Gentle, Shaquan Castillo and Kenyon Barrow; while Esmond Sanker and Antwan Latchman got a goal each for Belize United. (We observed that Belize United U-10 players Esmond Sanker and Antwan Latchman also appear on their club's U-13 team.)
Sponsors for the tournament include: SOL Belize Ltd., Simon Quan, Belize Bank, B.E.L., B.C.C., Habet & Habet, Sylvian Lyons, Aquatic Water, and Future FC – coordinator, Edon "Yellow Man" Rowley.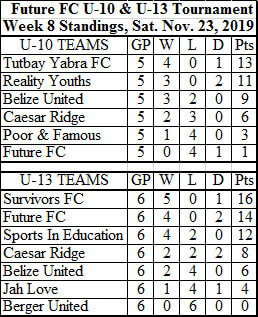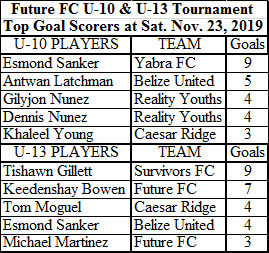 Semifinal playoff matches:
Saturday, November 30, ITVET
10:00 a.m. – (U-10) Tutbay Yabra FC vs Caesar Ridge
11:00 a.m. – (U-10) Reality Youths vs Belize United
12:00 noon – (U-13) Survivors FC vs Caesar Ridge
1:00 p.m. – (U-13) Future FC vs Sports In Education
(Information and standings courtesy Mrs. Barbara Cadle Lanza, NSC)
Feature photo: Little League action at ITVET (Old Technical) Field