(A review of the book, "To Educate A Nation: Autobiography of Andres P. & Jane V. Enriquez," by Jeremy V. Enriquez
Within two readings of the seminal book, "To Educate A Nation: Autobiography of Andres P. and Jane V. Enriquez", by the noteworthy Belizean Garifuna writer Jeremy Enriquez, yours truly had to dig deep spiritually so as to understand what it was like for those legendary Garifuna educators of the 1900s Belize who partnered with the Catholic Church in the former British Honduras to establish a world-class educational system.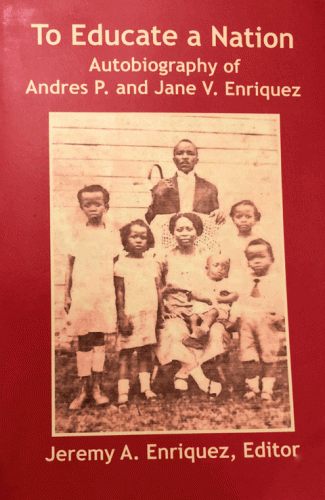 The pioneering work to educate a nation like Belize since then that was so painfully but spiritually built by Garifuna male teachers, through the help of their strong and dedicated women, brought light to darkness in the jungles of British Honduras (Belize) among the indigenous Mayas of the San Antonio Village of Belize's Toledo District. Through the Christianization of these people who came from centuries of the great Mayan civilizations that ruled Central America before the coming of Jesus the Christ to this world, this historic manuscript, seen through the eyes of Andres P. Enriquez and his dedicated partner, Jane V. Enriquez, allowed one to understand the present circumstances at the time that made African peoples produce excellence even within difficult and oppressive conditions.
Hence, the stellar work in education that the Garifuna master teacher in Andres Enriquez was able to establish for the Catholic Church of Belize.
As an educator myself who has been trained in all kinds of scientific pedagogical methods of how to teach children, Andres Enriquez boosted my soul with energy in terms of the sacrifices he made against all odds to break the cycle of ignorance among a stubborn and cultured people who may have seen European ways of life as totally alien and suspect to their reality. What was amazing was how he was able to convince post-Columbus Mayan society to understand the white man's God, placing it at the forefront of choice between a backward future or an awakened enlightenment of progressive ideas. He was able to transfer Mayan psyche from a path of arguably old, outdated and antiquated ways of life to a more relevant way of doing and thinking.
He was able to succeed where others like him failed in explaining to the rural Maya that there was absolutely nothing wrong with new and conventional ways of thinking that eventually will be the change that the Mayan children, born and yet unborn, will one day bring to their society.
And today, as we look at the present-day Belize and how Mayan society in Belize has coexisted among the rapid social and political changes, we understand that such would not have been possible without the spiritual crusader in Belizean rural education, Andres P. Enriquez, and the pioneering work he and his Garifuna colleagues established for Belize.
The nation-state of Belize will always owe a debt of gratitude to them. They revolutionized Belizean education in the 1900s in a way that would not have seemed possible by present day Belizean educators of today.
The book warrants volumes that became a kind of manual for me in terms of hardening up to present day challenges that are faced in the American classroom, being that most of my students today are children of Central American refugees who are descendants of these same indigenous Mayas that Andres P. Enriquez was so skillful in educating, though they resisted Eurocentric educational models.
The Catholic Church seemed to realize that Garifuna men like Mr. Enriquez were most fitted to be placed on the frontline of a primitive British colonial outpost that eventually won the souls of the so-called Mayan natives. Ironically, it was the Catholic Italian explorer, Christopher Columbus, who had the blessings of the Catholic Church to go and seek lands in the name of Queen and empire as a means of "Christianizing the natives". The cross and the sword in which imperial European powers like Cortes and Balboa came with to the Americas to plunder, rape, and steal with the Church's blessings, emerges as stark contradiction as to why the church then in the former British Honduras would want to use one indigenous people, the Garifuna, to educate and to Christianize another indigenous people, the Mayas of the Central American Peten. It may have been the resilience and resistance to oppression that the Garinagu endured in the genocide against them by the French and later the British, and their  subsequent exile from their land "Yuremei," or St. Vincent, in the Caribbean.
The parallel contribution that was made by Mrs. Jane Enriquez in the passionate support of her husband in education among the peoples of colonial British Honduras' rural landscape also requires volumes here. She became a scholar of languages like her husband in terms of communicating in Maya, Spanish and English, so as to teach to the dark sides of the human soul of that wild and unfriendly nature of southern, western, and northern Belize. This was her very life in terms of the struggles she endured, so painfully yet so patiently, as she cried out to her force greater than nature for guidance. She taught, healed, counseled, delivered among the Mayas, as well as cared for her own children while still standing firm behind her husband's ideals of the mission to which he was called.
For me, theirs was one of the most astounding spiritual works that have ever passed through my mind to date. What were they made of so as to accomplish such a difficult mission in such a difficult time in colonial British Honduras? And they were absolutely able to succeed with such distinction and excellence.
Truly, there are only a few like them that are called to such a deep mission of servitude to humanity. Regardless of the dark period of European conquest in the world that they lived, Andres P. and Jane V. Enriquez, through the mercy of God Most High, was able to build mountains of morals among the indigenous Belizean Maya, the western and northern Belizean Mestizos, as well as the Southern Belizean Garifuna, East Indian, and Belizean Creole. They became a blessing of Garifuna ingenuity and spirit among the masses of the rural peoples of Belize.
(Ed. NOTE: Insofar as the writer's opinions of the cultures of Belize's Maya peoples in British Honduras, the newspaper needs to say that the opinions of the writer are not those of this newspaper.)