SAN IGNACIO TOWN, CAYO, Sun. Mar. 8, 2015–The National Elite Basketball League (NEBL) hosted some great games this past weekend, as teams continued to battle for supremacy in the league. Fans are reminded that all games have a live webcast, where the play-by-play along with box scores are available for all games. Fans can follow every game live on the internet, as scores are in real time. The games can be accessed from our website at nebl.sportingpulse.net
Belmopan Red Taigaz defends home court
On Thursday night, the Belmopan Red Taigaz (4-1) hosted the Orange Walk Running Rebels (2-2), where both teams were coming off wins over the previous weekend. The UB gymnasium was packed to capacity as the home team was able to secure their fourth win in a row, claiming an 85-72 victory. Belmopan Red Taigaz was led by last year's MVP Farron Louriano, who tallied a double-double with the game high 30 points (pts), 10 rebounds (rebs) and 2 blocked shots. Terrell Eskridge finished the night with 12 pts, 8 assists, 4 rebs and 4 steals; while Jamal Harris had 11 pts and 5 rebs. Travis Lennan and Jarrel "Bird" Velasquez netted 9 and 8 pts, respectively. For the visiting team, Roger Reneau had a break-out game with double-double of 24 pts and 14 rebs, while having 4 steals and 4 assists. Randy Usher finished the night with 16 pts and 2 assists; while Jason Grant scored 16 pts and pulled 5 boards.
The Orange Walk Running Rebels are in the toughest stretch of their season, playing three of the top teams in a three-game span, as they face off with Cayo Western Ballaz next week and travel to San Pedro the following week. This will surely be a test for them, as they try to secure at least one win during this difficult three-game stretch.
Cayo Western Ballaz survived a scare versus Belize City No Limit
On Friday night, Cayo Western Ballaz (5-0) hosted the Belize City No Limit (1-4) team at the Sacred Heart College Auditorium in San Ignacio Town, as they tried to keep their record unblemished. However, the visiting team jumped out to an early 8-0 start, taking a 5-pt lead into the half. With 3 minutes to go, Cayo Western Ballaz was nursing a 6-pt lead, but they were able to pull out the 64-57 victory at home, to remain undefeated. The home team was led by Richard Troyer, who scored 27 pts, and had 4 rebs, 4 steals and 3 assists. Giovanni Lennan had 9 pts with 12 rebs; while Akeem Watters finished with 8 pts and 7 rebs. Kurt "Chengo" Burgess scored 7 pts and finished with the game high 19 rebs. For the visiting team, Belize City No Limit was led by Gregory "Chippy" Rudon, who had 15 pts, 4 rebs and 3 steals; while Lennox Bowman had 13 pts with 2 rebs; and Kevin Domingo chipped in with 8 pts.
San Pedro Tiger Sharks narrowly edged Dangriga Warriors
On Saturday night, the San Pedro Tiger Sharks (4-1) hosted the young and talented Dangriga Warriors (2-3) at the San Pedro High School out on the island. Last season's trip to San Pedro was a game thriller, as Dangriga was one of only two teams that almost claimed a victory on Tiger Sharks' home court. This game was another thriller, as Dangriga Warriors was down by only 4 points midway through the fourth quarter, but San Pedro Tiger Sharks was able to seal the 87-79 victory. San Pedro was led by Milton James, who recorded another double-double, with the game high 29 pts and game high 11 rebs; while Densmore Edwards had 17 pts on 75% shooting from the field, to go along with 4 steals. Darwin "Puppy" Leslie finished the night with 16 pts, 2 assists, 2 steals and 2 rebs; and Raul Roches had 15 pts with 4 rebs. For the visiting team, Edgar Mitchell was the high man with 25 pts and 2 boards; while Macario Augustine tallied 15 pts and 9 rebs. Trevaughn Usher and Davis Guzman finished the night with 13 and 10 pts, respectively. With the win, San Pedro Tiger Sharks continue to hold on to the number 2 seed, while Dangriga fell to a three-way tie for the fourth seed, sharing this position with Belize Hurricanes and Orange Walk Running Rebels.
Belize Hurricanes kept Toledo Diplomats winless
On Saturday night Belize Hurricanes (2-3) tried to rebound from a close loss last weekend against Orange Walk Running Rebels, as they hosted the Toledo Diplomats (0-5), who is the only winless team in the league. The home team was able to easily secure the 79-62 victory, as they climbed back up to a three-way tie for the fourth and final playoff spot. Belize Hurricanes was led by Tariq Middleton, who had 19 points and 2 assists, while Brian White had 18 points and 5 rebounds. Leon Williams had 15 points and a game high 17 rebounds, while Ty Bradley finished with 10 points, 6 rebounds, 4 assists and 2 steals. In a losing effort, Toledo Diplomats was led by the league's top scorer, Michael Bables, who had the game high 27 points and 6 rebounds, while Jiovanni Arzu finished the night with a double-double, scoring 17 points and pulling 10 rebounds. Jamai Avila finished the night with 9 points.
Upcoming games
On Friday night, the defending champions, San Pedro Tiger Sharks (4-1) will travel to Belize City to take on Belize City No Limit (1-4) at Bird's Isle. On Saturday night, Belize Hurricanes (2-3) will travel to the UB gymnasium in Belmopan to challenge the Belmopan Red Taigaz (4-1), who is presently riding a four-game winning streak; while the Belize Hurricanes will be trying to record back-to-back wins for the first time in the season. Also on Saturday night, Cayo Western Ballaz (5-0) will take their undefeated record to Sugar City to take on the Orange Walk Running Rebels (2-3) at the Orange Walk Multi Purpose Complex, where they have won all their home games for this season. The two teams down south will do battle on Saturday night at the Ecumenical College in Dangriga, as Toledo Diplomats (0-5) will take on the home team Dangriga Warriors (2-3) for supremacy of the south. Games on Thursdays and Saturdays tip off at 8:00 p.m., while all Friday night games start at 9:00 p.m.
Below are the team standings after 5 weeks of games.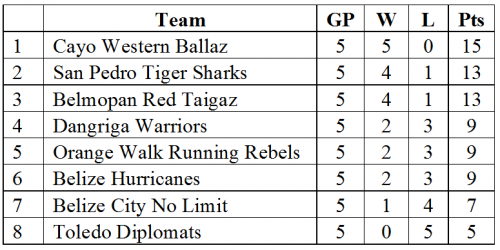 GP- Games Played, W – Won, L – Loss and Pts – Points
NEBL 2015 – Basketball at its best!