BELIZE CITY–St. Catherine Academy this morning launched a historic educational bond, valued at BZ$2.85 million, to finally realize a long-held dream of constructing a two-storey multipurpose center where it can host sporting and cultural events, apart from providing space for two new classrooms and a cafeteria for its 700 students.
SCA principal Salome Tillett said that the school got official permission to construct the building in 2004, and 10 years later, they are still trying to raise adequate funds for its construction. According to Tillett, architect Gustavo Guerra has been hired to finalize the plans for the new building. She said that the steel frame will be imported from Britain, and construction works are planned for the end of October 2014. Piles have already been driven onsite with an initial investment of $200,000.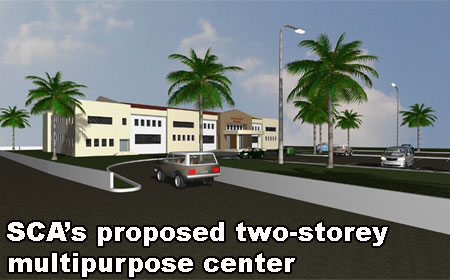 Ervin M. Perez, managing director of Legacy Fund, which worked along with the school to develop the bond offering, said this is the first such offering in the English-speaking Caribbean.
Perez said that the bonds are safe, like certificates of deposits or term deposits, but better, because funds can be invested at rates higher than the 2.9% average interest rate now offered on those financial instruments.
The fiscal agent for the scheme is Heritage Trust & Financial Services Limited, which Perez said would manage and independently control a sinking fund account to help meet bond commitments.
Sr. Mercedes Cervantes RSM, chair of SCA's board of governors, announced that the bond will be offered in three series. Those are Series 1, $500,000 in bonds spanning 10 years; Series II, $1 million spanning 20 years, and Series III, $1.35 million spanning 25 years. The rate of interest will span 4% to 6% per annum, with interest payments being made twice yearly.
Perez said that a $10,000 investment in Series III would yield interest earnings of more than double – at $22,071.
According to Legacy Fund, "The bonds are being offered in denominations of one thousand dollars ($1000.00) and multiples thereof as tradable instruments; however the ability to resell the bonds may be limited." The offering is for 2,850 bonds total.
The useful life of the building will be 50 years, and the school is pledging 7% of its gross revenues, currently estimated at $172,000, towards repayments for investors, Perez said.
He explained that it would take the school 17 years to amass the money for the building by just setting aside that portion of its revenues, and with inflation costs, the price tag would balloon to $4 million. The proposed bond scheme is structured to ensure repayment over 25 years.
Tillett said that the school has already considered changes in the Government's secondary school financing regime, and has looked at all worse-case scenarios. She said that the school would still be able to make good on its repayment commitments. Perez said that the building will also bring with it an additional $30,000 in revenue.
The bond offering will close on October 31, 2014. While all bondholders will initially receive 4% in interest, those investing for 20 and 25 years will be paid higher rates, as interest rates would be adjusted to 5% on August 1, 2034 and to 6% on August 1, 2039.
Copies of the prospectus can be obtained online from Legacy Fund at www.legacyfundlimited.com or from SCA or Heritage Trust and Financial Services in Belize City.
CLICK DOCUMENT TO VIEW