BELIZE CITY, Wed. June 3, 2020– A house on Baldwin Avenue in Port Loyola collapsed at about 12:30 this morning. Luckily, no one was injured.
Thalia Westby, the owner of the house, said that she was at home sleeping with her two children when they heard some creaking noises, and while they were trying to find out the cause of the noise, the house tilted and collapsed.
Due to the darkness and because they feared being arrested due to the curfew, they went to a neighbor's house.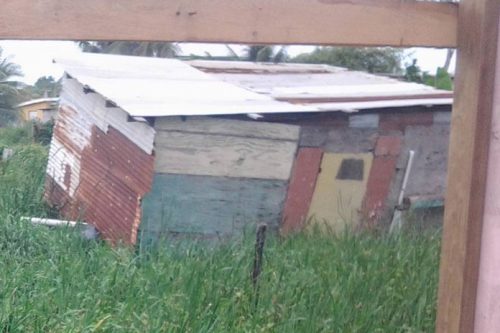 Collapsed house
Westby said that she has been living in the house for the past two years, but she is a single parent and despite the fact that she works hard to earn a living, she cannot afford to repair the house. She is very worried, since the hurricane season is now here, and she is seeking public assistance to secure a house for her and her two children.
Persons who wish to help Thalia Westby and her children can contact her at 625-5543.
Feature photo: Thalia Westby, owner of collapsed house