BELIZE CITY, Tues. Oct. 3, 2017–The Belize City Council appears to be having a serious cash-flow problem that has affected its sanitation workers, whose salaries were not deposited in a timely manner at the Holy Redeemer Credit Union (HRCU). The check should have been deposited in time for the sanitation workers to have received their salaries on Friday, September 29.
When the Council tried to lay the blame at HRCU's door, the credit union fired back with an unusual press release this afternoon, which points to the fact that the check from City Hall was late, as late as today.
Mayoral candidate, City Councilor Dion Leslie, told the media today, "The Council did meet our pay last week; I know the majority of the City Council employees have gotten their pay, their pay has been deposited into their account, so I don't what is the issue, whether it be something on our end or something on their [HRCU's] end."
Leslie added," I think it is the first time that it is taking so long. I know a new banking system has been implemented and we were having – not only City Council, but other businesses, as you said – were having issues with the time lapse from the depositing of the payroll to it being put in the employees' accounts so as I said, I don't know if it is something on our end or something on HRCU's end."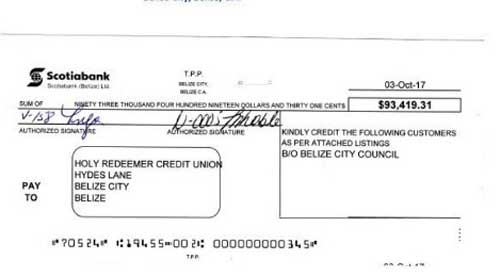 HRCU, however, was not accepting any blame for the shortcomings of the City Council, and in its press release said, "It has been brought to our attention by several of our member-owners that certain unfair comments were made about Holy Redeemer Credit Union (HRCU) regarding payments of salaries for Belize City Council employees.
"HRCU has tried extremely hard to work with the Belize City Council regarding the payment of salaries for those employees … our staff and management go to extreme limits to facilitate payment of salaries for Belize City Council every single week.
"To set the record straight, we attach a copy of the check dated October 3, 2017 that was delivered to our office at 12:00 (noon) today [Tuesday, October 3, 2017] for payment of employees' salary for Friday, September 29, 2017."
The HRCU press release was signed by Melinda Smith, (OIC) company payroll, and U Clement Usher, CFO.
HRCU also attached a Scotia Bank check for $93,419.31.
Councilor Leslie also admitted that the City Council is in its "slow season."
A City Council employee, who spoke to Amandala on condition of anonymity, said that on Friday, workers from the Council's Finance Department worked late trying to get its work in order and by Monday, all the employees whose salaries are deposited at Scotia Bank were paid. The workers whose salaries go to St. John's Credit Union were the only ones to be paid on time last Friday.
Amandala spoke to PUP deputy leader Cordel Hyde who questioned why every year when it is the Council's so-called slow season it's only the sanitation workers who suffer. He said surely the clerical workers and the councilors and the mayor and deputy mayor were all paid on time.
Hyde opined that City Hall is a multi-million-dollar institution which should be able to get short-term financing to make sure all their workers are paid on time, adding that clearly the sanitation workers are not priority for the Council.
Hyde said it's the City Council which should be paying interest rates to fulfill their responsibility of paying the sanitation workers on time. But instead, it's the sanitation workers who have to get emergency financing and pay the attendant interest rates or penalties on their loan payments.
"Every year it's the same sad song with this Council," said Hyde. "The Council is disconnected; they fail to understand that a lot of the sanitation workers are limping into payday and any tardiness with their pay is a heavy setback for them."