SAN PEDRO, Ambergris Caye, Fri. Nov. 15, 2019– Over the last few decades, San Pedro has grown from a sleepy fishing village to a major tourist destination. This phenomenal growth requires a lot of adjustment in terms of the infrastructure that is necessary to sustain the level of growth that is taking place.
One area in which a massive increase is taking place is the consumption of energy, so, in order to address this trend, the Belize Electricity Limited (BEL) opened a new branch office to serve the fastest-growing municipality in the country.
BEL's new branch office is located on Pescador Drive, and was built at a cost of $700,000 to the company. This morning, a number of its staff members gathered for the opening ceremony, at which San Pedro Town mayor, Daniel Guerrero, made welcome remarks.
In providing a brief history of electric power on the island, Mayor Guerrero said, "You may not know this, but the first source of electricity on Ambergris Caye was installed by a German in March 1931 when we were still in the copra industry. But as our economic base evolved, so was the need to upgrade our electrical source.
"Twenty years later, Mr. Jim Blake decided to invest in a larger electrical generator at a location called El Astiero — in English [it means] the Shipyard. That new generator powered twenty to twenty-five families in the then San Pedro fishing village.
"But perhaps the major boost came when Caribbean Fishing Cooperative was formed and the demand for proper storage for the marine products became essentially paramount."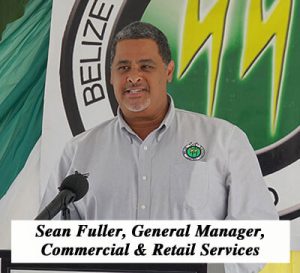 BEL's general manager for its Commercial & Retail sector, Sean Fuller, said that he was excited about the new building.
Fuller added, "San Pedro has been one of the fastest growing communities in the country over the last few years. The continued growth exceeds most other municipalities and we find that customers in San Pedro, like any other tourist destinations, are looking for more green energy solutions.
"So, these customers in San Pedro and other tourist destinations are looking for solar solutions, to make their businesses more green. We all understand that the tourism market is very, very popular for green energy hotels and destinations, so one of the primary needs that they have is to convert their energy to green energy solutions."
Fuller further stated, "Another area that we find that residents of San Pedro is really interested in is the conversion of these golf carts that you see traversing the island, these fossil fuel golf carts, to be converted back to electricity golf carts.
"As you know, the issue back in the past was that golf carts had limited ranges, 20, 30 miles or maybe even less, so whenever the new bridge was open, customers pretty much felt that they didn't quite trust getting in their golf carts to jump the bridge and running out of power, but the new technology in battery technology, lithium-ion battery technology, allows us to reintroduce electric transportation on the island, and we're very excited with the pilot project that we're embarking on, to ensure that we convince customers and businesses to convert these fossil fuel vehicles into electric vehicles."Following the ceremony and the ribbon-cutting to officially declare the new branch office opened, Fuller answered questions from reporters.
Apart from its plans to introduce electric transportation to San Pedro, BEL also is planning to phase out the diesel generator which provides power to Caye Caulker. The generators will eventually be replaced by submarine cables in another two or so years.
Fuller explained that BEL has a loan…that "has been approved." "The environmental clearance from the DOE has been approved. We are now in the process of going through the bidding process to select a vendor to supply the cable and install the cable. We will commence actual work on the ground immediately. We know that by the end of 2020, the cable will be installed and we're hoping to energize that cable link late 2020 or early 2021," he said.
Fuller continued, "Right now we have one cable that has the capacity to serve San Pedro and Caye Caulker for the next few years, but as I mentioned in my remarks earlier, we have already started the analysis of the project to install a second redundant higher capacity submarine cable from the mainland to San Pedro to facilitate the advancement of growth in the use of energy.
"We are also very much interested in looking at solar technology for the islands. We're currently doing a wind study countrywide to determine if there's any potential for wind generation, and so, yes, we are very much prepared for the increased growth in energy needs for the two islands and subsequent islands."
"There is a plan afoot to also extend that submarine cable to Caye Chapel, and so we're well prepared with the existing capacity and the planned capacity for the new cable that we plan to install by late 2021 or early 2022," he said.