BELIZE CITY, Mon. Jan. 13, 2020– A dramatic second half comeback yesterday afternoon by one of the Yabra based teams, Intrepid FC, thrilled Yabra football fans, as they overcame a two-goal deficit to defeat powerhouse Honduras FC (Barrack Road FC players) by a 6-5 margin for the Bernard Wagner 5-A-Side Mayor's Cup Football Tournament Championship.
Six teams competed in the Mayor's 5-A-Side tournament, which kicked off on October 10, 2019, with games being played on Sunday afternoons at the Yabra Field.
Regular season ended with Honduras FC in 1st place, Silent Assassins FC 2nd, Intrepid FC 3rd, Survivors-Flowers FC 4th, Yabra FC 5th, and Mesopotamia FC in 6th place.
The top 4 teams then entered the knockout playoffs, where #1 Honduras defeated #4 Flowers FC; and #3 Intrepid got the better of #2 Silent Assassins.
In yesterday's 3rd place game, Flowers FC was victorious over Silent Assassins. And in the championship final, Intrepid captain Delroy "Tin Man" Flowers was the Player of the Day, netting 3 goals, including 2 penalties and a three-quarter field shocker that gave his team the lead, which they never relinquished. Brian Martinez scored 2, and Albert "Allie" Thurton got the other for Intrepid. Goal scorers for Honduras were Steven "Breds" Baizar with 2, Francisco Briceño also with 2, and the other by Quincy Briceño.
At the end of the championship game, Mayor Bernard Wagner counted out the cash prizes to 1st, 2nd and 3rd place teams. Third place Survivors-Flowers FC received $300.00; second place Honduras FC took home $600.00; and champion Intrepid FC collected $1,100.00.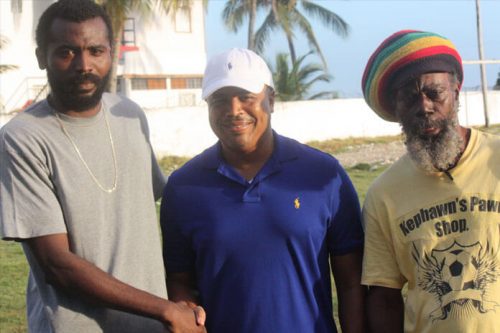 Most Goals & MVP – Delroy "Tin Man" Andrews (left), captain of Intrepid FC along with Mayor Bernard Wagner (center) and tournament coordinator Jerome "Peeloff" Maheia (right) 
The Most Goals title was also decided yesterday, as Shawn Young of Silent Assassins led with 25 goals, until Intrepid captain Delroy "Tin Man" Andrews' hat trick raised his total to 26 goals for the Most Goals title. Tin Man was also named MVP of the tournament.
Feature photo: Yabra football fans, up close to second half action in championship game between Honduras FC and Intrepid FC