Photo: Bevan Curtis Alford, charged with murder
by Charles Gladden
BELIZE CITY, Thurs. Mar. 16, 2023
A teen from Ladyville in the Belize District—Bevan Curtis Alford, an 18-year-old laborer—has been charged with the murder of Freddy Chicas, 22, a resident of the West Lake Community in the Mile 8 area.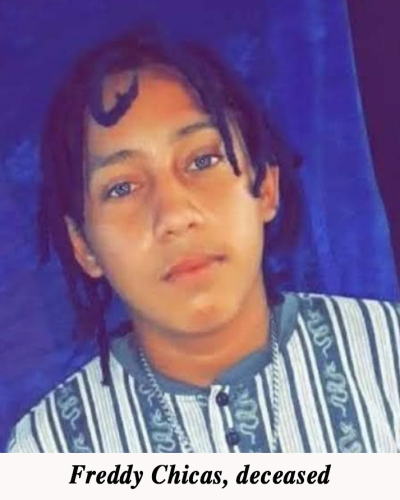 Chicas left home at around 8:00 a.m. on Sunday, March 5, but didn't return, which became a cause for concern for his family, since he would routinely inform them of his whereabouts.
Days later, when he still had not returned, his family reported his disappearance, and a missing person report was issued on Thursday, March 9. On the following day, Chicas' body was found in an early state of decomposition among mangroves in a swampy area a few hundred yards off the George Price Highway on the outskirts of the Mile 8 Community.
When police arrived at the scene, they observed a single gunshot wound in Chicas' head. At this time, the motive for the murder is unknown.
When Deputy Commissioner of Police, Dr. Richard Rosado met with local reporters today, Thursday, March 16, he was asked how to combat young teens who are committing such heinous acts of violence.
"I think it is very important as a society, as stakeholders, as government agencies that we must reach out to all at-risk individuals; all those individuals who are in prone areas that are likely to commit [a] crime and provide to them that support system in order for them to become productive members of society," he said.