"I want to keep carrying on and die with my boots on…" Samuels says
BELIZE CITY, Thurs. Sept. 14, 2017–Lennox Samuels, a veteran Belizean journalist who led a very successful career in the USA, has traveled widely to pursue his stories, even into war zones. Samuels, who became a conflict reporter, told Amandala today that he has been to some 99 countries and reported from several dozens of them.
The top places he likes are Sydney, Paris, Bangkok, Hong Kong, London, Istanbul, and New York.
"I think that traveling has helped my reporting ability," said Samuels.
"The sort of research that a lot of people have to do is wired into me already," he added.
"I want to keep carrying on and die with my boots on," Samuels declared.
Samuels, who is the brother of late Police Commissioner Maxwell Samuels, a PUP ex-minister who passed away in 2013, told us that he has traveled to places like Somalia to cover war, and while posted in Mexico, he covered the news involving the drug cartels. He has covered stories on nuclear meltdowns and natural disasters, such as tsunamis. He has also done some interesting stories along race lines, including telling the story of Black Mexicans and racism in Brazil, where, he said, Blackness is denied in favor of different shades of color.
Lennox Samuels, now 63, left Belize in 1973, at the age of 18, to attend university in the USA. He earned Bachelor's degrees in English and History, and later earned a Master's in Journalism from Marquette University. His first job was at the Milwaukee Sentinel, where he had interned while studying, but his career flourished when he moved on to the Dallas Morning News, where he worked for two decades and rose through the ranks from being a special projects reporter to the deputy managing editor, overseeing areas such as metropolitan, business, state, investigative, and fashion news.
"One of my more interesting diversions was fashion editor for the Dallas Morning News," said Samuels. After two years, he said, he decided that although fashion is great, he doesn't want to write about it. "It's not that substantive, but it was fun while it lasted," he remarked.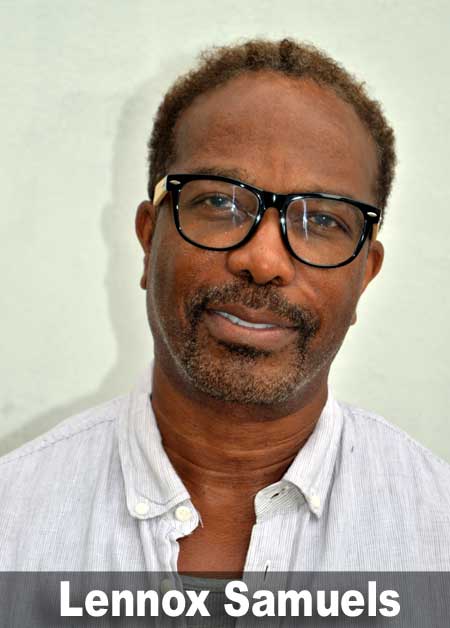 He stepped down at the end of 2003 and went off to being the Mexico Bureau Chief. He lived in Mexico for three years until the end of 2006 and then took a buyout offered by Dallas Morning News. This led to his move to Bangkok, Asia, where he had been many times and where he now resides.
Samuels later joined News Week and had the opportunity to go cover the Iraq War – an assignment which spanned a year and a half (from 2008 to 2009). Later, he returned to Bangkok and joined NewsWeek.com in NY as senior editor.
The news outlet later merged with the Daily Beast, but they later uncoupled. Samuels stayed with News Week but later moved away from a fulltime journalism career to serving as a contributor to the Daily Beast, an online news outlet, working on an assignment basis. He also does some consulting work.
His most recent piece is titled, "Burma's Nobel Peace Prize Winner Aung Suu Kyi Winks at Rohingya Massacres: The backlash against Suu Kyi shows how much her once ardent supporters have become disenchanted with their former 'democracy icon.'"
Samuels shared his story with Amandala during his visit to Belize, extended because of flight cancellations forced by hurricanes Harvey and Irma.
Samuels, who is divorced and has no children, has boldly ventured into danger zones in pursuit of his story, even to the point of putting his life at risk.
"The most danger I felt, curiously enough, was in a Black war in Somalia," he said.
The story surrounded a fierce and deadly conflict involving 44 fighting clans, and the trouble he had stemmed from the fact that he looked like he could fit in among them.
"In many instances, the animosity was such that anywhere you went you were asked, 'What clan are you from?' The wrong answer could get you shot…" he explained. "They kept saying to me, 'what clan are you?'" he said.
The two principal war lords were Ali Mahdi and Mohamed Farah Aidid (a former US Marine who became Somali leader). Samuels said that he had interviewed Ali and wanted to find Aidid to interview the other party. So he went in search of him, but his team decided that proceeding to the intended destination was too risky. So Samuels went the rest of the way alone on foot. He encountered three heavily armed Somali teens, who asked him that infamous question: "What clan are you?" while gradually raising a gun each time until it was cocked and ready to fire. Samuels said that he thought he would have been killed, but his translator, who saw from a distance what had been unfolding, went to his rescue and explained that he was an international journalist looking to interview Aidid. Samuels was sent away, after having been told that there would be no interview of Aidid that day.
"My knees buckled on returning [to the vehicle] and I realized that I had escaped with my life. I had been shot at in Iraq," he said, recounting when he had gone out with troops on patrol, as they were going door-to-door looking for Al Qaeda operatives.
Samuels had never covered a story on Belize, but he told us that he is thinking of doing something on the Sarstoon border situation, which he would write for the Daily Beast.
"Unfortunately, this whole Belize-Guatemala thing mostly flies under the radar," he said, adding that for most ordinary readers overseas, they don't know anything about it.
Samuels has also been asked to serve as a distinguished guest speaker at the University of Belize for its lecture series next September.
He is due to leave Belize on September 16th.