BELIZE CITY, Thurs. July 30, 2020– Today, William "Danny" Mason, 54; as well as Ashton Vanegas, Keiron Fernandez, Terrence Fernandez, and Ernest Castillo, were sentenced to life in prison for the beheading murder of Pastor Llewelyn Lucas, 47, of Dangriga, whose head was found in a bucket in a pickup.
The five men had been found guilty of the murder in December 2019.
Before sentencing the five men, Justice Antoinette Moore said that there had not previously been any murder as heinous, cruel and senseless as the murder of Lucas, that she could use to guide her in the sentencing, and that this would be the first ruling for a crime of such a particularly perverse nature.
The judge said that she considered the cruelty of the murder and also sought to keep in mind mitigating factors, but could not find any mitigating factors.
In presenting the facts in brief, Justice Moore said that the five men are culpable for the unlawful killing of Pastor Llewelyn Lucas; and although it had not been established which of them was directly involved in ending the pastor's life, they have all been found guilty.
Justice Moore said that at a house owned by Mason, two of the convicted men were seen walking behind Pastor Lucas with machetes; he was then tied up and put in a pickup by the convicted men.
The vehicle into which Lucas was placed belonged to Mason, and they got into the vehicle with Pastor Lucas, and the next day, Pastor Lucas' head was found in that same pickup,
The men attempted to hide the evidence by destroying the body, and they also tried to stop police from conducting searches.
The judge said that she still does not know what could have caused the men to carry out such violence. They have families and they were employed, she said.
She also mentioned that it was pure coincidence that his head was found, because police were investigating a robbery, and due to the keen eyes of a policeman, Pastor Lucas' head was found,
To date, Pastor Lucas' body has not been found.
Justice Moore said that an impact statement was made by Pastor Lucas' family, and that his mother has recurrent nightmares of seeing his head in a bucket with blood and ice, and the family had been severely impacted by his death.
She also pointed out that the men did not show remorse, and this was also an aggravating factor.
All the attorneys of the accused men were seeking a fixed jail sentence, but Justice Moore said that a fixed jail term would not apply under the circumstances; it was not an option, according to her research. She had the option of death and life imprisonment.
For the death sentence to have been issued, the prosecution would have had to place such a request in writing to the court from the start of the trial, but since this was not done, the death sentence was ruled out, leaving Judge Moore only with the option of life imprisonment.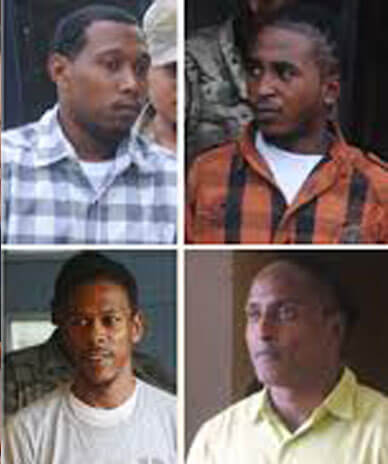 With a life sentence, the men could be paroled after spending a minimum sentence.
Justice Moore then said that she would impose the life sentence on all of the men. They have all served 4 years and 11 days in prison, for which they will be credited, she said.
In sentencing Eric Castillo, 23, the judge said that he must serve a minimum sentence of 30 years before he is liable for parole. She took into consideration that he was young at the time of the murder (he was 19 years old) and was impressionable. The age was a mitigating factor, she said.
Ashton Vanegas, 28, was sentenced to life in prison, but must serve a minimum of 35 years before he could be paroled.
Keiron Fernandez, 34, was sentenced to life imprisonment, but he also must serve a minimum of 35 years before he is eligible for parole.
Terrence Fernandez, 29, was also sentenced to life imprisonment and must serve a minimum of 35 years before he could be paroled.
Danny Mason is now 54. Justice Moore highlighted all his good deeds and what he had done to help many, but she strongly condemned the cruel murder and said that it must be reflected in the sentencing.
The judge then sentenced him to life imprisonment, and similarly, he must serve a minimum of 35 years before he could be paroled.
After sentencing the convicted men, Justice Moore said that she hoped that Pastor Lucas' family could now find some consolation, but that they will now have a hole in their hearts for the loss of their loved one.
Attorney Bryan Neal said that the five men will appeal.
Before the sentencing today, Thursday, pleas of mitigation were held yesterday, Wednesday, before Justice Antoinette Moore for the five men, and the day before, Tuesday, some more pleas had been heard.
In his attempt to sway Justice Moore, Danny Mason called on William J. Rush, a businessman from Guyana who spoke to the court via Skype. Rush said that he is presently in the United States because of the COVID-19 pandemic.
He said that he has known Mason for over 20 years, and knew him to be kind and generous, and that was why he was taken advantage of by persons around him.
When asked what he had to say about Mason being sentenced for murder, Rush said that he could not believe his ears and did not understand what he was hearing, because the Danny Mason he knew was not violent.
Mason took the stand and told Justice Moore that he comes from a well-to-do family and was taught from a young age to be an achiever. He was taught to be of assistance to others and to be helpful, he said.
Mason said that before coming to Belize, he was a traveler and had visited about 40 countries to see how people lived in other places and to experience their culture.
He was invited to come to Belize, he said, by his wife, who has clients here, and when he came, he saw many needs and knew that his assistance was needed, and he assisted the Ministry of Health with X-ray machines, ultrasound machines and other equipment to improve health services.
Mason told Justice Moore that he assisted NEMO and CEMO and was the first person to begin and operate the first rescue service for NEMO, which has saved many lives. The rescue operation is now a part of NEMO's rescue mission, he said.
Mason also said that he was invited by Mayor Francis Humphreys of Dangriga to get him to participate in a back-to-school program, and he participated by donating school bags with books, and a free haircut.
Mason continued his mitigation plea by saying that he invested in poultry, agriculture and in other projects, and he hired 85 people in various areas, including on his farm and in agriculture, but there are those who are jealous of him, and it had become a problem.
Mason told the court that he is a good person and he challenged anyone to prove otherwise.
He said that through friends and associates, he was introduced to Pastor Lucas, and they became friends, but at that time, the pastor was conducting a campaign against gays who were challenging Section 53 of the Constitution, and attempts were made to silence him.
Mason said that Pastor Lucas was banned from talking on radio or on television, so he would go out to preach alone, and he (Mason) would be fearful for him.
Mason told the court that he assisted Pastor Lucas on many occasions, and that he would even pay for a hotel room for him when he went to Dangriga or to other places, and he also supported his church.
Mason said that Pastor Lucas was having problems with many people, and that he was always assisting him.
Mason said that he has many friends and was introduced to politicians, and he also helped them out. He said that he is the father of 2 children, and was seeking leniency from the court. He has so far been incarcerated since July 2016.
Mason told the court that he is saddened about Pastor Lucas' death and sympathizes with Pastor Lucas' family, and although he is in jail, he is willing to assist them in any way.
He told Justice Moore that since his incarceration in July 2016, he has been on 23 hours-per-day lockdown, and on all weekends. He has had no interaction with others and is not permitted to participate in any programs. He said that he does not have any grievance or conflict with anyone in prison, and is wondering why he has been placed in a 23-hour-a day lockdown for the last 4 years.
Mason told Justice Moore that he is having vision difficulties and is sleeping in a dark cell on the concrete floor, and he was begging for mercy.
Dextor Todd, Mason's attorney, told the court via Skype that he was seeking leniency for Mason, that the killing of anyone is a tragedy, but that the submissions have been put in place to show the other side of Mason, and these submissions should be considered.
Mason had no previous conviction, Todd told the court, and he also was seeking a fixed-term sentence, as is done in the other Caribbean countries. He said that Mason has a stellar reputation and that leaders depended on him for assistance, and that he donated to political campaigns for special projects and for the development of Belize.
Keiron Fernandez and his cousin, Terrence Fernandez, called their grandmother to testify about their character. She said that they were brought up well.
Keiron was a construction worker and was well-loved and took care of his children who were living with him, she said, and she could not believe her ears when she got the news that he was involved in a horrendous murder.
She had begged the judge for leniency for her two grandsons and asked that they be given another chance, because everyone deserves a second chance. She told Pastor Lucas' family, who were in the court, that she was sorry about the loss of their loved one.
In her presentation, the Director of Public Prosecutions, Cheryl-Lin Vidal, noted that none of the convicted men showed remorse. Remorse means an acceptance of guilt, she said, but none of them has accepted responsibility, but they are still maintaining their innocence.
The DPP had said that there had been an amendment to the laws and that the judge could now hand down individual sentences, and could also impose a life sentence.
Each of the convicted men made a plea for leniency from the court, begging the judge for mercy, pointing also to their good conduct while in prison, and mentioned their families, who were now without their breadwinners.