SAN IGNACIO TOWN, Cayo District, Thurs. Dec. 6, 2018– The first-ever Morales Transports 8-Ball Tournament in Cayo concluded at CK Sports Bar in San Ignacio on Sunday, December 2, with a massive showdown between CK Shooters and Criminals. When the dust settled, it was CK Shooters who emerged as the champs. Here's more details, as it was a best-of-two sets of matches, race-to-four to win per player, three players line-up.
Match #1: Criminals demolished CK Shooters, 3-0. For the Criminals, it was Wallace Chu who brought down the ever dangerous Luis Usher to size, 4-3; Emil Zelaya edged Gilbert Luna, 4-3, after Gilbert was already on the hill, 3-0; Emil made an enormous comeback with some superb shots to be victorious; then Jimmy Rudon, on top of his game, downed David Fernandez, 4-1.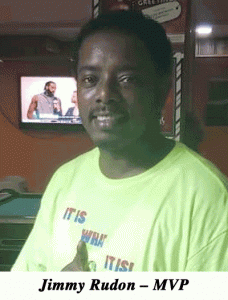 Match #2: Criminals only needed one player to win, but CK said, "No way," and made them pay, as they handcuffed Criminals, 3-0, thus forcing a tie-breaker. For CK, it was the dynamic David Fernandez over Wallace Chu, 4-3, in a game like is played on ESPN; Luis Usher over Emil Zelaya, 4-3; and Gilbert Luna over Jimmy Rudon, 4-3.  So, tied 3-3, the tie-breaker was set, and it was David Fernandez of CK vs Wallace Chu of Criminals. But, big bad David used his sling and shooting skills to down the Criminals player Wallace by 4-2, as it appeared that Wallace ran out of bullets. And that's how it ended, CK Shooters the champs.
The prizes were as follows: 1st Place won by CK – $700 and a team trophy; 2nd Place won by Criminals – $300; 3rd place – $100 won by It Is What It Is. MVP was awarded to Jimmy Rudon.
The Cayo Billiards Association thanks Morales Transports for being the Gold Sponsor for the tournament, CK Shooters and Bel-Chi for being Silver Sponsors, and K & J Cool Spot for being Bronze Sponsor, and making the tournament a reality.