BELIZE CITY, Mon. Nov. 11, 2019– The Football Federation of Belize's (FFB) National Amateur Women's League (NAWL) 2019-2020 Opening Season has completed its fifth week of games, and already there appear some interesting match-ups to be anticipated, as there are still 2 undefeated teams each in the North and South groups. (See Week 5 standings below; our apologies for last week's error in labeling Week 4 standings as Week 5.)
Three (3) games were played in Week 5 this past weekend, 2 games on Saturday, November 9, and 1 on Sunday, November 10.
On Saturday, at the Cowpen Field in Stann Creek District, it was Rumberas dancing past the Dangriga Warriors by a 9-1 score. Sharing the scoring for Rumberas were Esly Padilla (7'), Ester Ramirez (29'), Kaite Jones (34' PK & 49' PK), Tanya Garbutt (73'), Ashley Rodriguez (87' & 88') and Deysi Beltran (90+' & 90+'); while the Warriors only goal was by Jessie Mclaughlyn (10'). Meanwhile, at the Norman Broaster Stadium, it was Verdes Rebels crushing Maya Hill Royals, 8-2, with goals from Maricela Hernandez (5'), Florine Vasquez (9' & 90+'), Gisel Baeza (16' & 19'), Yahagra Alarcan (22'), Shantel Robinson (38') and Heydi Aceitano (52'); while Diana Pacheco (12' & 57') got both goals for Maya Hill.
The only Sunday was at Ambergris Stadium, and it was another shelling, as the visiting Guardians rolled over the San Pedro Invaders, 8-0, with goals from Ingrid Alcoser (1', 18' & 36'), Iamara Baptist (25'), Shanry Nasario (34'), Sarah Arzu (52'), Kara Kisling (80') and Jinelle Pott (89').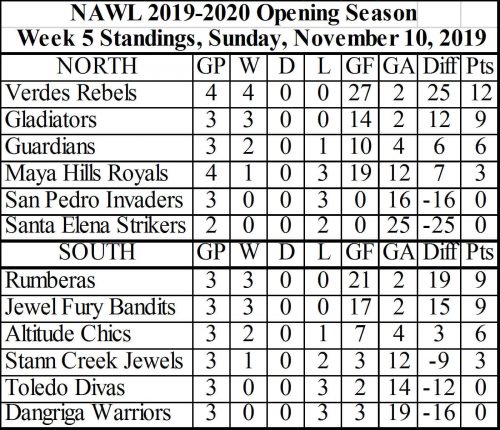 The goal scoring race also looks interesting, as Jewel Fury's Mariela Morales is challenging back-to-back top "goleador" Kaite Jones, now of Rumberas, for the Most Goals title.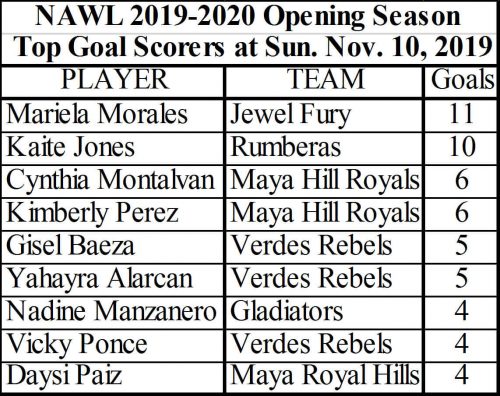 NAWL Week 6 schedule:
Saturday, November 16
3:00 p.m. – Dangriga Warriors vs Stann Creek Jewels – Carl Ramos Stadium
3:30 p.m. – Guardians vs Santa Elena Strikers – MCC Grounds
5:00 p.m. – Jewel Fury vs Toledo Divas – Isidoro Beaton Stadium
Sunday, November 17
4:00 p.m. – Altitude Chics vs Rumberas – M.A. Stadium
4:00 p.m. – Gladiators vs San Pedro Invaders – People's Stadium