BELIZE CITY–The rain held up enough during the day to make the field playable last night at the Isidoro Beaton Stadium in Belmopan for game 1 in the best-of-2 games series for the Premier League of Belize 2014-2015 Opening Season championship. And after 90 minutes of spirited action on a heavy and still slippery pitch, with a number of close misses on both sides, it was still a nil-nil ball game.
Though both teams play out of Belmopan, and Bandits owner Hon. John Saldivar is also the Minister responsible for the Police Department, there was no "pitta patta" involved in the on field combat, as emotions flared on a number occasions, requiring referee Christopher Reid to give some stern verbal cautions as well as a couple red card ejections. After a skirmish away from the play between the Bandits' Jerome "Jarro" James and Police's Marlon "El Matador" Meza that left Meza lying on the ground in pain for a couple minutes before getting up, both Jarro and Meza were shown red cards. The incident happened around the 73rd minute of play. Both men will be sorely missed in game 2 of the finals. Meza has been a spark plug for the Police attack, and has had a great impact coming off the bench, either scoring or assisting on goals for his team. And Jarro, despite accusations of lackluster performances during the regular season, has fared much better in scoring goals in post season.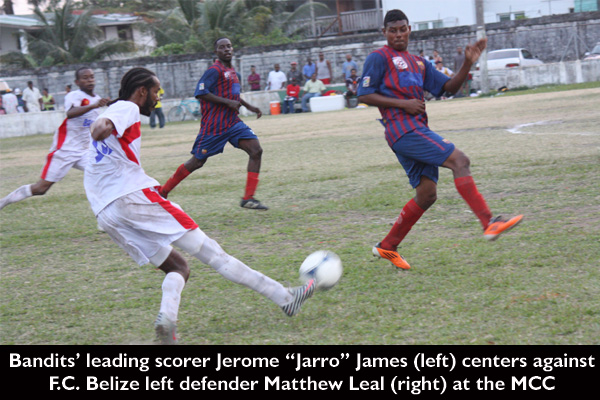 There were many long shots at both ends last night, some off target, others easily handled by Woodrow West in goal for the Bandits and Keith Allen between the sticks for Police. But there were also a number of anxious moments for both teams.
After a corner was headed out from a scramble in front of the Bandits goal at about the 30th minute, and Police midfielder Andres Makin, Jr. slapped the ball back through an opening in the crowd of bodies, it seemed to be heading for the corner and into goal outside the reach of West, but the ball bounced against the left goal post and glanced harmlessly out of play.
The half ended scoreless, and Bandits coach Edmund "Buzzard" Pandy decided to make the first move this time, substituting veteran Marvin Centeno in place of rookie Edmund Pandy, Jr. in midfield at the 55th minute. Immediately, Police coach Andres Makin, Jr. responded by bringing in his attacking ace, Marlon "El Matador" Meza to replace Franz Vernon in the forward. And Meza quickly went to work, driving hard down the left side and swinging a perfect left foot cross to the trailing Danny Jimenez about 10 yards from goal, and Danny had all but slammed the ball past a helpless West in goal, when from seemingly nowhere Bandits' sweeper Dalton Eiley managed to get just a piece of the ball with his outstretch foot, enough to deflect Danny's shot wide of goal.
Moments later, Meza found himself all alone on a breakaway down the left wing, entering the box, but his left foot grounder was easily handled by West, who made sure to "jinx" El Matador before kicking the ball back down field.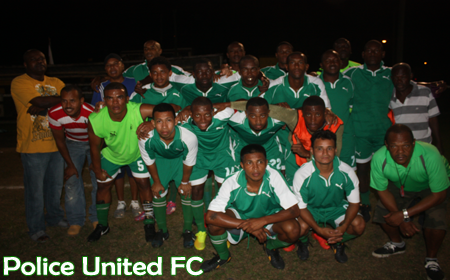 At the 65th minute, with the Bandits kicking into the southern goal, behind which were two bleachers full of anxious fans, a corner from the left side rebounded from a crowd and rolled back to the edge of the eighteen, where advancing Bandits midfielder Denmark Casey unleashed a right footed rocket that passed inches above the Police goal crossbar. No way could Keith have handled that.
And just 7 minutes later, after a looping center across goal saw Police goalie Keith Allen scrambling to prevent a header by Bandits' Elroy "Bibbs" Kuylen near the left goal post, Allen's save inadvertently bounced free and was easily tapped in for what seemed the first goal of the game, until the linesman ruled that the ball had already gone off the field before being retrieved by Allen. No goal.
With nerves on edge, the play had already moved to the Bandits end of the field, when attention was drawn to a commotion inside the Police half, where Meza was writhing in pain on the ground after a tangle with Jarro. After some consultation with his linesman, referee Christopher Reid preserved the equality of numbers on the field by sending off both Jarro and Meza.
Critiquing the play of both teams; though they both display great energy and tenacity in attack, there are often large gaps in midfield which neither team seems inclined to exploit, preferring to drive the long ball into instant, but often ineffective attack. Both teams have very strong defences and very skillful players in midfield, but with wingers and strikers constantly running forward, the midfielders often have no one to knock the ball round with in the open area in midfield, in order to lure the defence out of position. Both teams are most vulnerable during the counterattack, but the team that employs a little more patience and poise in midfield will likely create better chances at scoring in Saturday's final. It will certainly make for a more pleasing spectacle for the many fans expected to throng the Isidoro Beaton for Saturday's grand finale.
Belmopan Bandits FC: #01 Woodrow West (goalkeeper); #11 Khalil Velasquez (#8 John King 84'); #15 Jeromy "Jarro" James (red card 73'); #12 Denmark Casey, Jr.; #4 Elroy Kuylen; #9 Highking Roberts (#16 Jordy Polanco 66'); #14 Edmund Pandy, Jr. (#17 Marvin Centeno 55'); #24 Dalton Eiley; #23 Tyron Pandy; #7 Ian Gaynair; #5 Shane Armstrong. Coach – Edmund "Buzzard" Pandy; asst. Jorge Nunez.
Police United FC: #00 Keith Allen; #10 Harrison "Cafu" Roches; #20 Daniel "Danny" Jimenez; #22 Franz Vernon (#8 Marlon Meza 57', red card 73'); #17 Devon Makin; #5 Kishane "Grill" Pech; #19 Byron "Baron" Usher; #14 Andres "J.R." Makin, Jr.; #18 Frank Lopez; #11 Clifton West (Lennox "Criminal" Castillo 90'); #13 Amin August, Jr. (#16 Trevor "Burger" Lennen 67'). Coach – Andres Makin; asst. Amin August.
Referee: Christopher Reid; assistants Ricardo Ake and Abner Alvarez; 4th official Amir Castillas.
A champion will be crowned Saturday night in Belmopan, and the way these two teams are playing, it may well be after overtime.
Saturday, January 17
7:30 p.m. – Police United FC vs Belmopan Bandits FC