BELIZE CITY–Inquiring minds have been questioning why there has been no official statement on the visit of a delegation of officials from a Mexican fuel powerhouse–Petroleos Mexicanos (PEMEX), a state-owned company—to Belize over the weekend, amid reports that the executives came to Belize to assist with the search for crude oil in northern Belize.
A report carried by Por Esto (Quintana Roo) on Monday, December 15, 2014, said that 6 private Pemex helicopters had landed at the Chetumal International Airport with 25 persons, including company engineers, most of whom made their way by road to Belize, since they had no permit to enter Belize's airspace.
However, there have been claims by Belizeans that the Pemex choppers had been spotted at the Philip Goldson International Airport.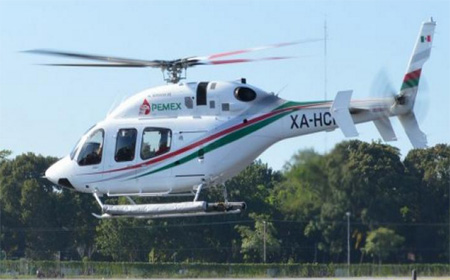 Up to press time, our checks with both officials in the Embassy of Mexico in Belize as well as Belize's Ministry of Energy proved futile, and both official sources told us that they have no information on the Pemex mission to Belize.
In the case of the Embassy, the rep we spoke with said that a news report had been carried in Por Esto about the 2-day trip by Pemex executives to Belize, but the Embassy had not gotten any official information.
Chief Executive Officer in the Ministry of Energy, Dr. Colin Young, told us he had also not been advised of the visit of the officials, and he said that he does not have any information to indicate that the company has a financial interest in Belize.
The Por Esto report said that the Pemex officials performed consultancy work for private companies looking for oil in Belize. Two companies identified as active explorers in northern Belize are Maranco and New World Oil and Gas.
In early 2014, Prime Minister and Minister of Finance Dean Barrow announced, on the occasion of his budget presentation, that there was a major oil find of an estimated 50 million barrels of crude oil in northern Belize, but preliminary indications were that the oil would be difficult and more expensive to extract than the crude at Spanish Lookout, which is a lighter crude.
"50 million barrels in the ground does not translate into recoverable crude," CEO Young had told us.
According to Por Esto, the Pemex engineers came to advise the Belize oil companies, and it talks of a more formalized working relationship between the private entities in 2015.
The oil companies in Belize are permitted to enter joint venture arrangements with overseas companies; however, there is not yet any indication of any joint venture agreement having been made between the parties. Neither is there any agreement between Pemex and the Government of Belize for petroleum exploration.
Por Esto quotes the Honorary Consul of Belize in Quintana Roo, Jorge Valencia Gómez, as saying that they have no official information on the Pemex consultancy, and that the Government of Belize has not signed any agreement with PEMEX. It added that the only agreement with the Government of Belize and PEMEX is to purchase petrol and diesel fuels.
The report said that according to geologists, Belize has the capacity to reach export up to 50,000 barrels a day, considering the potential find in Orange Walk. Belize crude oil production is down to about 2,000 barrels of oil per day.


Related Articles
Share
About Author
(0) Readers Comments