BELIZE CITY, Tues. June 6, 2017–An Orange Walk man whom a jury voted 8 to 1 to convict on an indictment of rape was released from the Belize Central Prison, where he was serving an 8-year sentence for the offense.
This morning, the Court of Appeal allowed his appeal against the conviction and sentence, quashing both conviction and prison sentence, and ordering a "retrial with a different judge."
Court of Appeal president, Justice Manuel Sosa, told Antonio Gutierrez, 36, sitting in the dock hunched forward and listening, that the court, consisting of Appeal justices Christopher Blackman and Murrio Ducille, was releasing him on a self-recognizance bail of $4,500 and two sureties.
Before reading the court's order, Justice Sosa thanked Gutierrez's attorney, Anthony Sylvestre, and senior Crown counsel Sheiniza Smith and Crown counsel Javier Castellanos, "for the mature way in which you carried yourself and assisted the court in this appeal."
Gutierrez's appeal succeeded on 1 out of the 5 grounds that his attorney had filed. The Court of Appeal had found that the trial judge in the Northern Session of the Supreme Court, Justice Herbert Lord, had failed to follow a provision of the Evidence Act when he allowed evidence that would otherwise be considered as inadmissible, to be admitted at the trial and did not properly caution the jury on that specific aspect of the evidence the Crown had presented.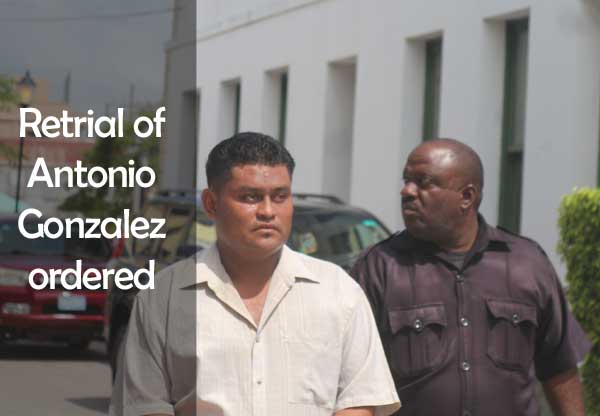 Sylvestre cited as Gutierrez's third ground of his appeal that: "The learned trial judge, having exercised his discretion to give direction for the need for special caution before acting on the evidence of the complainant, erred in failing to give a proper direction to the jury in accordance with Section 92 (3) (a) of the Evidence Act, as to the factual reason in the given case for the need for such caution."
The court asked the Crown if it could defend against ground 3 of the appeal, but Crown counsel Chan said it could not, and that resulted in the squashing of the conviction and the consequent 8-year sentence.
Gutierrez's sentence took effect in May 2016, when he was convicted by a jury which had deliberated a little over two hours before returning into the courtroom to announce its guilty of rape verdict.
On August 12, 2011, a 16-year-old girl alleged that Gutierrez, who was 30 at the time, raped her on a street in Orange Walk Town.
In his defense at the trial in the Supreme Court in Orange Walk, Gutierrez gave a dock statement in which he admitted to having sex with the 16-year-old girl (the age of sexual consent in Belize), but insisted that the sex between them was consensual. He did not rape her, he insisted.