BELIZE CITY, Mon. June 25, 2018– The FFB National Over-40 Football Tournament 2018 had a full schedule of games over the past weekend, as the tournament nears the top-4 playoffs, which will include the top 2 teams from each group – North and South. Only 3 weeks of regular season remain in the double round-robin for each group. (See standings below.)
In a Belize City clash on Saturday at the MCC Grounds, it was Plaza, 2-1, over Lake (Medina's House of Jewelry). Mark Tench (2') gave Lake an early lead, but Plaza rebounded with goals from Errol Usher (26') and a spectacular header by Anthony Phillips (42').  Meanwhile, out at the island it was San Pedro Veterans bombing the Belmopan Bandits, 6-nil, with goals from Orlando Pinelo (33' & 75'), Christopher Hendricks (45'), Abron Sanchez (53'), Edgar Lima (76') and Alex Garcia (84').
On Sunday at the M.A. Stadium in Independence, home standing Mango Creek Veterans cruised to a 3-1 victory over Dangriga New Site Erei. Mango Creek got a goal each from Wilmer Garcia (15'), Harold Neal (50') and Robert Muschamp (71'); while New Site's lone goal was by Justin Garcia 967'). South Group leaders Benque Viejo Veterans won by default (3-0) over cellar dwellers San Ignacio Santels. At the MCC Grounds, BDF Veterans kept their slim playoff hopes alive with a big 3-2 win over Kulture Yabra Veterans. Shaking the net for BDF were Mark Loredo (10' & 85') and Sergio Ek (60'); while Carl Paulino (26') and Kevin Rowland (31') hit the target for Kulture. And at the Isidoro Beaton Stadium, Belmopan Veterans clipped visiting Esperanza Warriors, 2-1, with a goal apiece from Dennis Alvarez (39' PK) and Josue Amaya (45'); while Ismael Thompson scored for Esperanza.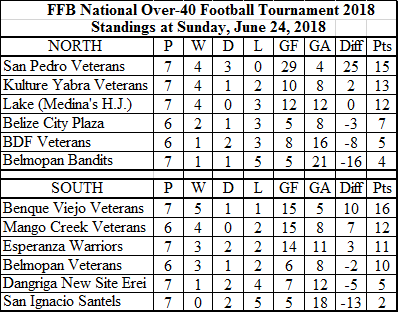 Upcoming schedule:
Tuesday, June 26, Back Match
7:00 p.m. – Belize City Plaza vs BDF Veterans – MCC Grounds
Saturday, June 30
5:30 p.m. – Lake/Medina's House of Jewelry vs San Pedro Veterans – MCC Grounds
8:00 p.m. – Belmopan Bandits vs Kulture Yabra Veterans – Isidoro Beaton Stadium
Sunday, July 1
4:00 p.m. – BDF Veterans vs Belize City Plaza – MCC Grounds
4:00 p.m. – Dangriga New Site Erei vs Belmopan Veterans – Carl Ramos Stadium
4:00 p.m. – Esperanza Warriors vs Benque Veterans – Esperanza Football Field
4:00 p.m. – San Ignacio Santels vs Mango Creek Veterans – Norman Broaster Stadium
(Information courtesy Peter Alvarez, Chairman, National Over-40)