ORANGE WALK TOWN, Mon. Sept. 17, 2018– The Orange Walk Football Association (OWFA) 1st Division Amateur Opening Season Tournament is under way, with Week 2 games being held on Saturday and Sunday, September 15-16, at the Louisiana Football Field.
In the opener on Saturday, San Francisco FC clipped Jam Rock FC, 2-1, with a goal apiece from Armando Chirinos, Jr. (67') and Rodney Delcid (76'), after Travion Martinez (31') had given Jam Rock FC the first half lead. The nightcap saw Palmar FC with the 3-1 win over Guinea Grass Survivors FC, courtesy of a goal each from Ivar Canche (25'), Jesus Perez (25') and Kevin Pol (54'); while Darian Coh (36') got the sole tally for Guinea Grass Survivors.
In game 1 on Sunday, San Felipe FC dropped Galacticos FC, 4-0, with a goal apiece from Steve Ramos (47'), Aaron Dominguez (51'), Roy Cawich (54') and Leonardo Velasquez (85').  Game 2 was another 4-0 shelling, as Progresso FC crushed August Pine Ridge FC with a goal each from Ian Chi (17'), Raheem Eagan (80'), Esmer Patt (85') and Nazim Aldana (86'). And in game 3, Charles Canton (3') and Oscar Acevedo (40') scored to give Guinea Grass Sugar Boys FC the 2-1 win over Sinbad's San Estevan FC, whose only goal was by Edwani Munoz (28').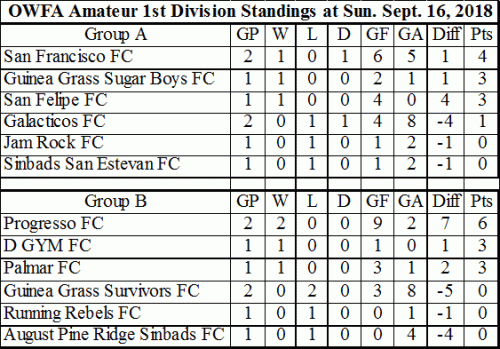 Upcoming Week 3 games:
Saturday, September 22
7:00 p.m. – August Pine Ridge Sinbads FC vs D GYM FC
9:00 p.m. – Sinbads San Estevan FC vs Galacticos FC
Sunday, September 23
10:00 a.m. – Progresso FC vs Palmar FC
12:00 noon – Guinea Grass Sugar Boys FC vs San Francisco FC
2:00 p.m. – Jam Rock FC vs San Felipe FC
4:00 p.m. – Guinea Grass Survivors FC vs Running Rebels FC