Photo: Paul Thompson, newly appointed CEO
by Charles Gladden
BELIZE CITY, Mon. Jan. 30, 2023
After being elected almost two years ago, two CEOs have walked through the doors of the Ministry of Natural Resources, which is under the portfolio of the Deputy Prime Minister, Hon. Cordel Hyde, and now, the minister will be appointing Paul Thompson as his third CEO.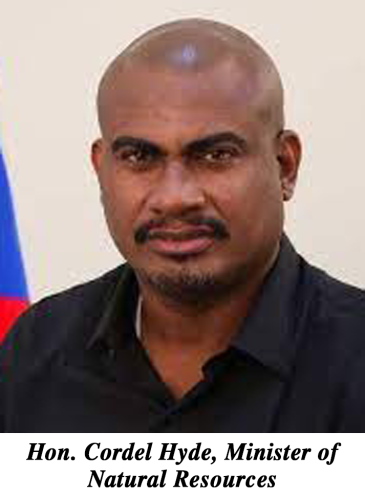 Thompson, who is currently Minister Hyde's senior advisor, will be replacing Nelda Tulcey, who first took the job from Dr. Lesbia Guerra who departed after a year.
Deputy Prime Minister Hyde on the change of CEOs told local reporters on Friday that he appreciated the work of his two previous CEOs and spoke highly of Thompson to be his new CEO.
"I have to thank the 2 females who agreed to be my CEO over the last couple [of] years. They both served 12 months. Listen, the job of a CEO is demanding. The job of a CEO in the ministry of natural resources is stressful, it's taxing, it's debilitating, and it takes a lot out of you, a lot of time from your family. It's a really difficult job and ultimately these women after a year in both instances opted to return to their previous careers. I have to use the opportunity to thank them. I appreciate the efforts, I appreciate working with them, I appreciate what we've been able to accomplish, but there is so much more we have to do, so I'm looking forward to this new chapter," he said.
"… Paul Thompson, former senator, and former candidate in the Albert Division. He has understudied those 2 women over the last 2 years. I know he has learned a great deal from them. He knows the ministry well. He knows all the issues, he has worked with all the key players, and he's well known in there, well like, well respected. So, he's the man… Paul Thompson is going to be the next CEO. I don't see people as surrogates. He is a hard-working fellow. He has a long and varied history in the business of politics and in governance. Has had major success in the business of governance over the years and this is a wonderful opportunity for him," Hon. Hyde said.