Post-mortem confirms that Navarro, 29, was shot to death
ARMENIA, Cayo District, Thurs. Nov. 16, 2017–An onsite post-mortem exam conducted on the decomposed body of Carlos Albeno Navarro, 29, a Guatemalan laborer of Armenia, Cayo District, on Tuesday morning revealed that his death was caused by a gunshot wound to the chest. A bullet wound was also observed in Navarro's leg.
At the conclusion of the autopsy, Navarro's body was taken to the Armenia Village Cemetery, where he was buried on Tuesday evening.
Police said that Navarro's decomposing body was found about 150 feet from the Hummingbird Highway, in the bushes near a feeder road in Armenia at about 4:00 Monday evening. The area was secured and the corpse was guarded by police until the autopsy was conducted on Tuesday morning.
We were told that the corpse was seen by a 5-year-old boy who was walking with his father on the feeder road. The boy alerted his father when he saw the man, who he thought was a "borracho" (drunk), lying on the ground. The boy's father realized that the man was dead, and he alerted the police and his fellow villagers.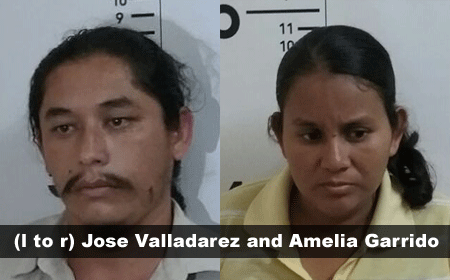 Navarro's parents said that he lived with them in Armenia. He left home about 6:00 Friday morning, to return on Sunday. When he didn't come home on Sunday, they began to worry. It was a terrible shock for them when they learned on Monday evening that their beloved son, was now a decomposing corpse.
According to Navarro's father, he was an easy-going person. He could not think of any reason why anyone would have wanted to kill him. The grieving father said that he wants the killer found and punished, for what he has done, to the full extent of the law.
Navarro's father and family did a search for tracks of the killer when they went to the area where the body was found.
Police had announced that their investigation had led to a person of interest, a Guatemalan man who also lives in the village.
At press time this evening, police announced that they have arrested and charged Jose Valladarez, 29, of Armenia with murder, and Amelia Garrido, 27, a domestic also of Armenia, was arrested and charged with abetment to commit murder.
They will be taken to court tomorrow, said police.
Unofficial reports are that Navarro and another man were in possession of Mayan artifacts which he reportedly sold, but did not share the money with his partner.
However, during a police press brief today at the Raccoon Street Police Station, ACP Joseph Myvette said that they had investigated the murder and had sent the file to the Director of Public Prosecutions for her direction, but they are not aware of the sale of Mayan artifacts that allegedly led to the murder.
Related Articles
Share
About Author
(0) Readers Comments