BELIZE CITY, Wed. June 21, 2017–At midnight last night, the price of a gallon of regular gasoline, the most common type used by motorists, shot past $10 for the second time this year, with the first price increase being a result of the implementation of further tax levies at the pumps.
However, Financial Secretary Joseph Waight told Amandala that since the tax increases of April 1, implemented to raise additional revenue to finance the Government's budget, no further tax measures have been implemented.
On April 26, the price of regular gasoline went up to $10.26 a gallon, the highest so far this year. Premium gasoline hit its peak price of $11.04 on May 11. Since then, there has been a price ease at the pumps, with the price of premium gas down to $10.53 and the price of regular gasoline down to $9.87.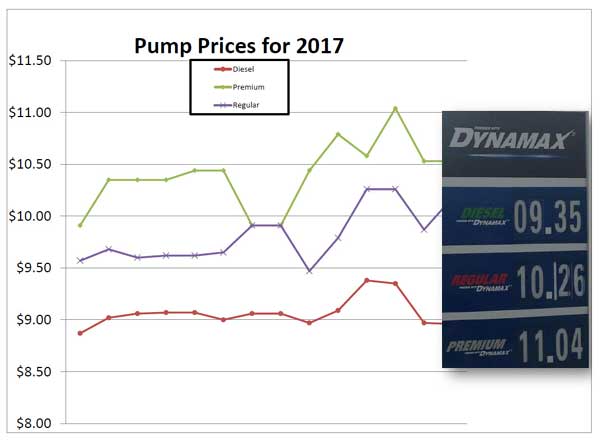 Last night, the price of premium gasoline did not change, but there was a notable price increase of 31 cents on the gallon of regular gas. Diesel prices are down by a penny, from $8.97 to $8.96.
These price quotes are for Belize City, the main hub from which fuel is transported to the rest of the country, where prices vary based on transportation costs. In the case of Ladyville, regular gas there now costs $10.21 a gallon, while in Orange Walk, the price tag is $10.26. Diesel prices at those locations are $8.98 and $9.03, respectively.
Toledo always sees the highest prices, due to transportation costs. At Big Falls, the price of a gallon of regular gasoline is $10.41, a few pennies cheaper than in Punta Gorda. Drivers will pay $10.76 a gallon for premium gas at Big Falls.
This latest price increase, said Waight, is tied to world market prices and not additional taxes.
He also suggested that there may be some changes in the cost of freight and insurance, which also forms a part of the price mix.
Primarily, Belize sources regular fuel from Venezuela. However, due to cutbacks in production and supply to trading partners, fuel for Belize's market has had to be sourced also from the US, the traditional supplier for Belize before Venezuela became our primary source under the PetroCaribe arrangement.