Between 1992 and 1995, this time of the New Year we would be going into camp at Bird's Isle with the Kremandala Raiders, who won semi-pro basketball championships back-to-back-to back in 1993, 1994, and 1995, after being runners up to Penta Lakers in the Raiders' rookie season of 1992.
Semi-pro basketball's sensational entry on the city scene and its subsequent decline have left me with a permanent heartache. Usually I try not to let my enemies see how much pain they've caused me at any given time, but in the matter of semi-pro basketball they have a very good idea of what they did. I felt the pain. I feel the pain.
There were two aspects of the semi-pro ride which were especially painful. The first aspect was that the foundation of the Raiders was young boys who had been newspaper collators at Amandala from the time they were 10 or 11 years old back in the early 1980s. Their story was a kind of Cinderella ride, so to speak, and it was very, very painful to watch the politicians ruin a genuine Southside product.
The second hurt for me came from the fact that I was absolutely sure that semi-pro basketball could not fail. One of the reasons I felt that way was because I was comparing it with semi-pro football, which had begun a year before semi-pro basketball, in 1991. I figured the basketball version of semi-pro, unlike football, had no travelling costs, because all the basketball teams were based in Belize City.
If anyone cared to do investigative research on the semi-pro basketball story, some big political names from both the People's United Party (PUP) and the United Democratic Party (UDP) would have to come in for condemnation. It's a scurvy story, Jack. You would also have to throw some radio personalities into the mix, original BCB.
In semi-pro basketball's inaugural season of 1992, the 1700-plus capacity Civic would be standing-room-only on weekends (Friday and Sunday nights) when the top teams met. The Kremandala Raiders, who were mostly rookies, created incredible excitement, and led the tournament after the first half of the season with a 4-1 record.
In the second half of the season I made a decision which no doubt cost the Raiders the 1992 championship, but I made the decision for the long term good of the industry. I don't think there was any way Penta Lakers could have beaten us if I had not voted to allow 6'8″ Fred Garcia, Jr., and 6'7″ Kirk "Shabba" Smith to play for Hugh "Pinas" Staine's Lakers after they returned from Navarro Junior College in the second half of our inaugural season.
In the first half of the season, the velocity, energy and physical conditioning of our team had overwhelmed the Lakers in the last few minutes. Now, when Fred and Kirk returned to Belize in the second half, our league commissioner, Gus Perera, said that the four teams which had qualified for the playoffs would have to decide if Fred and Kirk would be allowed to play. Those four playoff teams were Kremandala Raiders, Penta Lakers, Santino's Hotpoints, and Maria Chang Crown Stadium. Lakers, of course, voted for Fred and Kirk to play. Santino's and Crown Stadium, just as of course, voted to keep them out of the tournament. The Raiders' vote enabled the two fabulous Laker superstars to play. The Raiders' management has never been given credit for that selfless decision. So be it.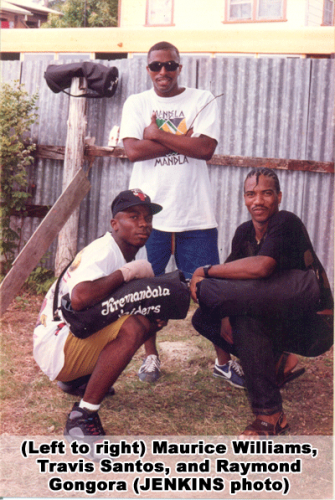 Things basically worked out as we had envisioned. Semi-pro basketball excitement, already very high in the old capital, went through the roof once Fred and Kirk began playing. Mexicans were actually driving into Belize City from across the border to see our playoffs in 1992. Fundamentally, semi-pro basketball was a Southside industry, and it had succeeded phenomenally in its very first year.
One specific PUP politician apparently saw a golden opportunity to get serious campaign financing for his run in the newly created constituency of Belize Rural Central. He easily convinced Cabinet to allocate millions of dollars for the enlarging and refurbishing of the Civic Center, which had been opened in 1981, if I remember correctly.
The enlarged, refurbished Civic, unveiled for the opening of the 1993 season, was a disaster, mainly because it was an oven. The story of what happened with the several millions is almost never discussed. One reason for that is perhaps that the UDP government which came to office in late June of 1993, two weeks after the Raiders won their first championship, hated Kremandala and the Raiders even more than the Belize Rural Central guy did. The UDP leadership was glad that our industry was damaged. (Read the editions of their party newspaper from 1994 and 1995.) Semi-pro basketball began going downhill because of the "new" Civic facility, which was supposed to have improved our product.
Listen, I gave up editing Amandala after the 1992 season, to work with the Raiders until late into the night, four, five nights a week at Bird's Isle. To repeat, I felt there was no way this industry could fail. But there were several reasons why the Raiders were not supposed to win, and once the Raiders could not be beaten, then the industry had to be sabotaged and destroyed.
One of the reasons the Raiders were supposed to lose, was because of KREM Radio, believe it or not. But that's another story for another time. The Raiders were also supposed to lose because money is supposed to be the deciding factor in Belizean sports tournaments. The Raiders had ability, but their ownership was roots Kremandala, financially destitute compared to the other ownerships. Another reason the Raiders had to lose, and failing that the industry had to be destroyed, was a deep hostility on the part of the new UDP/NABR coalition government which had won the June 1993 general election by the skin of their teeth.
The Raiders were something really good that came out of Trenchtown, to paraphrase Robert Nesta. The tournament which first brought the core Raider players to city-wide attention, when they were young teenagers, was the Princess Royal Youth Hostel Under-17 basketball tournament. This was an important, valuable Southside youth activity. After the Raiders became champions, we gave our all in trying to preserve this inner city tournament. But how could the Raiders save the Hostel Under-17 tournament when we couldn't even save ourselves?
The semi-pro basketball experience convinced me that there exist some forces here, extremely powerful forces, which find ways to crush good things which come out of Trenchtown. At the same time, we have to admit that Trenchtown is not powerful enough to protect its own youth and its own products. This is why we say that we consider ourselves an oppressed people. And if you haters decide to cry conspiracy theory or paranoia, talk to me about Kaina from Seine Bight. Talk to me.
It is important to acknowledge Belize's oligarchical realities, because there are some members of our community who have been gifted enough and fortunate enough to succeed in life. I do not believe that such members of our community understood or cared enough about our situation to protect us from the very sinister and very powerful forces which operate in high, shadowy places. Trenchtown, to go back in time and to expand the metaphor, could not protect Independence or the Messengers in the 1960s, or the Homebuilders in the 1970s. And so these roots jewels of football, music, and basketball did not shine as long as they should have. Their lights shone brilliantly. Trust me.
In conclusion, it is for sure we had some really good times fighting for the excellence the Raiders fought so hard to achieve. I became close friends with the legendary Wilton "Cama" Cumberbatch, a man who had been a deadly enemy of mine during the Homebuilders' era. In the almost ten years of our partnership before he died an untimely death in 2001, on the few occasions we got into disagreements, I would always say to him, "Cama, we were enemies for twenty years: we can never be enemies again." I mourn Cama, and I miss him.
I could not close this essay without lamenting the fact that Marshall Nunez, our coach, and Raymond Gongora, our captain, were always denied the recognition they deserved because they "came from Trenchtown." This is how Belize is – prejudiced and bigoted. I believe this, and that is why I say it. I'm black and I'm proud.
Power to the people.