BELMOPAN, Mon. Aug. 1, 2016–Hon. John Saldivar, who has been the minister responsible for the Police Department for the past four years, since March 13, 2012, but who has recently come under pressure for associating with and accepting money from an alleged con-man to finance his football team, has lost that portfolio, but Prime Minster Dean Barrow, head of Cabinet, asserts that it is not because Saldivar is being impeached for any wrongdoing, although, "seeds of mistrust" have been planted.
Controversy continues to brew over Saldivar's connections with a man known in Belize as William Mason, who was recently charged with four others for the murder and beheading of Belizean pastor, Llewellyn Lucas, and for the kidnapping of two others.
In Canada, where Mason previously lived, he was known as Rajesh Ouelette. We understand that when he tried to renew a Guyanese passport a few years ago, when the surname Ouelette raised red flags as strange for a native Guyanese, he claimed that he had changed his name from Persuad. Today, there are more questions than answers about Mason's true identity, but one thing is for sure: he is not a Belizean, as a fake birth certificate claims.
Prime Minister Dean Barrow told Amandala today that 4 officers of the Vital Statistics Unit are facing disciplinary and/or criminal sanctions. This is in connection with the issuance of the Belizean birth certificate issued last June, claiming that William Alexander Mason was born in Crooked Tree Village, Belize, to James Mason and Sharon Tillett.
This begs a still unanswered question: Why did Mason need to change his identity more than once? And, why did he have to create a new identity last year, claiming he was born in Belize on February 7, 1970? Why did he choose to settle in Belize and make friends with some of the most ranking politicians in the Barrow administration, among them the two men rivaling to be the next leaders of the United Democratic Party (UDP)?
Those men are Hon. Patrick Faber, who has publicly admitted that he went to Mason's place for "congratulatory drinks" when he was sworn in as Deputy Prime Minister early last month, and National Security Minister John Saldivar, who has now lost the police portfolio as a consequence of the fiasco, although he retains the ministerial portfolio for the country's defense and for the Belize Coast Guard.
Incidentally, Saldivar held the Immigration portfolio up to 2012, when it was handed over to former UDP minister of state, Elvin Penner. Penner was booted from Cabinet after Hon. Senator Godwin Hulse, the substantive Minister of Immigration, complained of irregularities which Penner presided over at the Immigration Department, including the issuance of a Belize passport to an Asian in a Taiwan jail. That was unearthed in 2013. Although Penner paid a political price, charges for immigration offences were struck out in 2014.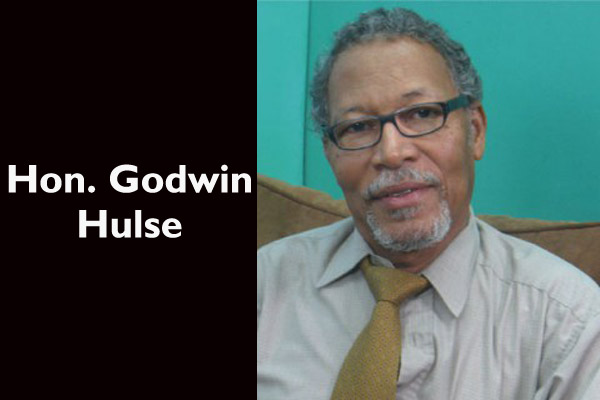 Saldivar is, likewise, paying a political price in the wake of the Mason saga. Cabinet met in special session this morning when the decision to re-shuffle the portfolios was unveiled. Shortly after midday, the Government of Belize announced that Hulse—who had met with Barrow on Saturday, when he informed the Prime Minister that he had been investigating lands transactions involving Mason and found that "it's all in a mess"—would now assume responsibility for police.
Barrow expects Hulse to restore "order," but also to lead an impartial investigation into the Mason case.
Meanwhile, the Natural Resources portfolio, which was under Hulse since last year, would now be assigned to Attorney General Vanessa Retreage. Retreage would have to be sworn in as Senator to assume that position, which means that one of the sitting UDP Senators would have to leave. Barrow would not say who, since he had not yet broken the news to that Senator.
When Barrow met the press on Friday, July 29, he said that if he were to take any action against Saldivar, he would have to have evidence against him. If there is evidence against Saldivar, "that would be a horse of a different color," Barrow said today. He told the media that "nothing has occurred since Friday" to cause him to depart from his position; however, for Minister Saldivar to continue to head the police ministry in the current circumstances—although Mason has been charged for murder and kidnapping—would not have been prudent, he said.
"The relationship between Minister Saldivar and Mister Mason up until the point it was terminated—whenever that point was—that relationship was such as to make the public and indeed myself and other members of Cabinet, uncomfortable with a situation where seeds of mistrust… have already been planted," Barrow said.
He added that "…the appearances are such as to oblige (almost) the public to at the very least question strongly that configuration where Minister John Saldivar and what was seen up until today as 'his Police Department' are actually advancing the investigation, the process that now centrally involves Mister Mason and his wife or girlfriend or companion – however you care to describe her."
Saldivar, Barrow said, has maintained that he had severed ties with Mason last September, when he was warned against associating with him. Saldivar has indicated that he may be off by a week or so.
"If that turns out not to be true; if in fact evidence—and I mean evidence—is unearthed and presented to me that could show conclusively that he continued in a relationship with Mister Mason well beyond that point where he's assured me it stopped, that would be an entirely different matter… The Minister understands and accepts that if that were to happen, he would have to leave Cabinet entirely…." Barrow remarked.
Mason is currently the subject of an ongoing probe by the Financial Intelligence Unit, which Barrow said had launched an investigation when allegations of Mason conning several persons in Belize emerged a few weeks ago. The Prime Minister rebuffed suggestions that Mason injected "ill-gotten" gains into the UDP's political campaign in what would constitute money laundering.
In relation to monies donated to Saldivar's football team Barrow said: "I don't know that money he admittedly contributed to the Belmopan Bandits were monies derived from illicit activities. It seems that he [Mason]… was engaged i activities and it appears allegedly illicit activities."
Today, Barrow refuted press reports that police had found a logbook which Mason kept of those persons to whom he gave monetary gifts and loans.
"I do not accept that there is any such logbook," he replied.
Barrow said that Acting Commissioner of Police, Russell Blackett, one of the police chiefs who have been debriefing him, has not said so, and he [Blackett] would not have concealed such a thing from him.
So far, the Barrow administration has not launched an independent investigation into the Mason saga—not just the criminal dimensions of the case, but also the extent of his wider connections with prominent Belizeans. Barrow said that he has not seen the need to do so, but would not close the door to such an investigation.
Although Mason has been accused of questionable money dealings overseas, there was also no indication that he is the subject of a probe by Interpol. Barrow pointed to the existence of mutual legal assistance treaties between Belize and the US, as well as other states, which could support a cross-border investigation.
That cross-border investigation seems vital to unearthing the true identity of, as well as the many aliases used by, the man who illegally acquired a Belizean identity under the new name William Mason and built up a network of friends in very high places.
Barrow said that, "…certainly, the question of Mister Mason's various aliases is something that must be borne well in mind…[and] every effort will be made to exhaustively determine the number and amount of aliases used," to avert the possibility that "any clever criminal defense lawyer" could challenge them on the basis of that kind of technicality.