SAN PEDRO, Wed. Dec. 1, 2021 — The board of management at San Pedro High School is currently carrying out an investigation into the conduct of a teacher at the school who used abusive terms to address students during an online session that was seemingly recorded and later shared online. The video surfaced on social media last night and was viewed and shared thousands of times within just hours.
During that online session, the teacher could be heard asking a question, and after one of her students said they did not know the answer to the question, she embarked on an all-out rant— referring to some of the students as "stupid" and idiots" and stating that they needed remedial classes due to what she perceived as a lack of interest on the students' part.
While addressing one student who apparently seemed willing to present the correct answer to her question, the teacher said, "I love the fact that you guys are always presenting, but then the rest of these stupid pickney right here — sorry to say it like that, but I am calling uno— what the [expletive] you are doing when I am trying to give you work to do? and then it's because of you idiots the reason why we have to have remedial class. Anyways, look at the question here, calculate the…. as a matter of fact, everybody turn on their camera. If you don't turn your camera I don't want to see you in my class again, ever! Turn on your bloody camera."
A release from the school's board says, "The Board of Management and Administration of San Pedro High School is aware of an incident of alleged teacher misconduct during her online class. As an educational institution, we do not support any form of student abuse by any member of our faculty, staff or vice-versa."
The release goes on to announce that the matter will be fully investigated.
In a release issued this afternoon, the Ministry of Education stated that the incident would be addressed swiftly and appropriately.
"This Ministry is aware that the Board of Management has commenced a thorough investigation and gives its highest assurance to the public that the matter will be addressed swiftly and appropriately," the release stated.
In its release the Ministry reminded teachers and staff and educational institutions to maintain professionalism and the "highest degree of ethical behavior" at all times.
"As teachers and public servants, we must always champion a safe and nurturing learning environment for our children, where physical, verbal and all other forms of abuse are not condoned," the Education Ministry's release states.
The Ministry also acknowledged in the release that the pandemic-era is a challenging time for both students and teachers and said that they are working with the Belize National Teachers Union (BNTU) and other partners to possibly offer support in the area of mental health to all stakeholders in education.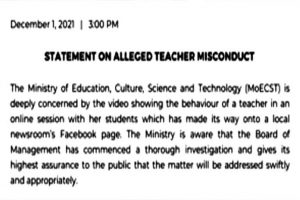 The president of the Belize National Teachers Union, Senator Elena Smith, in commenting on the incident, noted, "The teacher expressed frustration. First off I want to say that as a union we don't condone wrongdoing, and so when we look at such matters, we have to look at the big picture: what are all of the issues that we have seen or that have transpired to allow for this situation to occur. … But we want for people to understand the current situation as it relates to these online classes. what our teachers are going through on a daily basis, the pressures that they are under, because it seems as though we keep forgetting that we are not in normal times and we expect that teachers will be operating in the same way as they would during normal times. That is not so. We had the aspect of parental support or lack of support from parents, and then we have the issue of student involvement in their classes."