The body of a security guard was fished from a tilapia farm in La Democracia this past Friday, and based on the circumstances surrounding his death, his family is convinced that foul play led to his demise.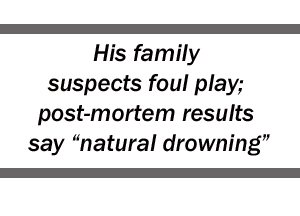 According to police, Tomas Garcia, 58, a security guard who was employed at the Fresh Catch Tilapia Farm in La Democracia, was discovered floating face-down and nude at Pond 16 late Friday night.
Today, Amandala spoke to Rural Executive Officer, ASP Chris Noble, and he said that, at the time, police were awaiting the results of a post-mortem on Garcia's body to determine whether he was a victim of foul play.
He said, "On Friday we did get that information sometime after 7:00 p.m. saying that the gentleman had been found in one of the ponds in the tilapia farm. The body was located, and we had people go out there to look into it. The gentleman is an employee of the farm and we are expecting results of a post-mortem later today. At this stage, we are very young into it; we did some work over the weekend and we hope that we could put closure to it at least by the day's end."
Noble also informed us that Garcia is a Guatemalan who migrated to Belize, and said that so far, police have communicated with his family and the Guatemalan embassy to inform them of the incident.
At that point, Noble had said that police were not ruling out foul play as a possible cause of Garcia's death.
"We never rule out foul play until after we have completed our investigations. When it comes to any death, it is always suspicious for us, but it is a matter of elimination", he told us.
We also managed to speak with Garcia's son, Byron Garcia, and his friend, Rigoberto Veron, as they waited by the morgue in Belize City for the post-mortem to take place.
They told us that they believe that foul play was indeed involved in Garcia's death, because he (Garcia) was well aware that he could not swim, and therefore, he would not have gone to swim in the pond.
Garcia, who was a resident of Cotton Tree and a member of the Cotton Tree Village Council, had 5 children and had been working at Fresh Catch for the past 8 years.
Byron described his father as a good person who didn't have conflicts with anyone, and therefore, he has no idea what might have happened to him.
The family said that his clothes were found some distance away on land, while police had said that the clothes were found near the pond's edge.
This evening, however, the post-mortem results confirmed that Tomas Garcia died from what was referred to as a "natural drowning."