BELIZE CITY, Mon. June 10, 2019–A security guard posted at the Belize Foam Factory at Mile 2 on the George Price Highway was found dead on the compound, lying face-down between two delivery trucks, his hands tied behind his back with black plastic straps, at about 4:00 Saturday morning.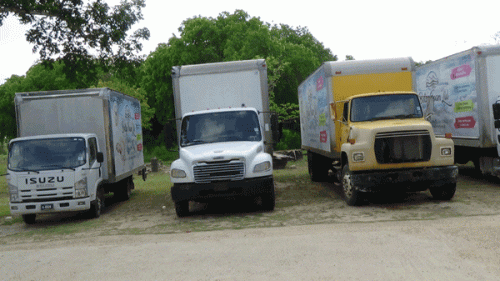 Haitian national Jacques Jean Wilder, 34, a security guard of Franklin Street, was seen with a small open wound beside his eyes, which were bruised and swollen. He was taken to the Karl Heusner Memorial Hospital, where he was declared dead on arrival.
Police said that they went to the compound of the foam factory, which only sells mattresses, foam and sheets, to carry out routine checks and found the security guard lying motionless on the ground between the trucks. Wilder came on duty at 6:00 Friday evening, and was found dead Saturday morning.
During an interview with us at the scene, Charles Abou Nehra, the manager of the foam factory, said that the thief or thieves gained entry into the company's office and went through all the drawers and found about $150 petty cash, which they stole.
He said that cash is not kept in the office; and he saw no reason why the robbers had to kill the security guard. He is saddened by the death because it was senseless.
His company signed a contract with the security company that provides the security services at night when the office closes, and he does not know the guard personally. He was alerted about the death Saturday morning.
Nehra showed us where the robbers damaged a window on the side of the building to gain entry into the office.
Nehra said that there are only a few criminals who are operating to tarnish the city, and that they should be found and dealt with harshly, because the majority of Belizeans are hard- working people.
The Haitian Embassy will be contacted through the Ministry of Foreign Affairs, and arrangements will be made for Wilder's body to be returned to his country for burial.