DANGRIGA, Stann Creek District, Mon. Dec. 3, 2018– The Stann Creek Football Association (SCFA) 1st Division September Season is nearing its top-4 playoffs.  Week 10 games were played on Friday night and Sunday afternoon at the Carl Ramos Stadium.
In the opener on Friday, Pomona Impacts shut out Sarawee Strikers, 4-nil, with goals from Leonardo Valdez (38'), Raymond Peters (74') and Floyd Tillett, Jr. (88' & 90').  And in the nightcap, Hopkins Ibayani bombed South Side Warriors, 5-nil, with goals from Wayne Ford (28', 42' & 76'), Thomas Myers (88') and Eworth Flowers (90').
Sunday's opener saw Pomona Impacts with a default win (3-0) over Pomona Strikers. In game 2 it was Silk Grass SG Ballers with the 5-2 win over South Side Warriors. Netting 1 apiece for Silk Grass were Nigel Elijio (3'), Zion Ramos (11'), Carlos Medina (83'), Kenyon Lewis (78') and Erickson Clark (81'); while South Side got a goal each from Tyrone Cacho (58') and Geovanni Cacho (85'). And in game 3, Pomona Warrios and Sampson Proper Fix played to a 4-4 draw. Shaking the net for Pomona Warriors were Kareem Haylock (42'), Lennox Castillo (58' & 90') and Harrison Roches, Sr. (81'); while Carlos Lino struck for all 4 goals (28', 35', 42' & 47') for Sampson Proper Fix.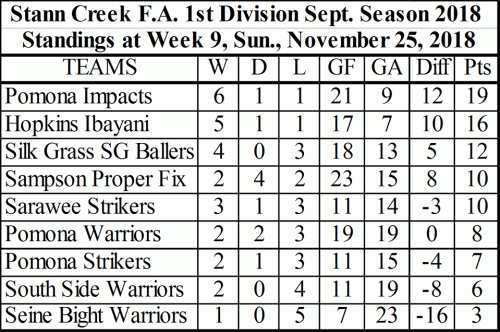 Two games are scheduled for Week 11, the final regular season games:
Friday, December 7, Week 11
6:30 p.m. – Pomona Strikers vs Pomona Warriors
8:30 p.m. – Silk Grass SG Ballers vs Sarawee Strikers