BELIZE CITY, Mon. Nov. 2, 2015–Upset was in the air when the Amandala crew entered the Norman Broaster yesterday, as things seemed to not be going Verdes' way. To start with, manager Ian Jones informed us of a terrible accident they witnessed on the highway, which delayed their arrival in San Ignacio, as they had stopped to render assistance. On arrival at the Norman Broaster, the normally crowded stadium was missing hundreds of Verdes fans, who had attended a big PUP pre-election rally (general elections are this Wednesday, November 4, and Cayo people take their politics very seriously.) And then, to further compound the unsettling situation inside the Verdes camp, there was a problem with the roster list of eligible players submitted before the game by the PLB. A number of Verdes players had been mistakenly left off the list, and this problem had to be ironed out before the game could commence, resulting in a twenty-two minute delay from the scheduled 4:00 p.m. start time.
The stage was therefore set for the visitors, Belize Defence Force FC, whose loyal fans now seemed to match in energy if not in number the few Verdes fans in attendance, to surprise the defending champions.
The BDF squad had a dismal first round in the Premier League of Belize (PLB) 2015-2016 Opening Season Tournament, drawing twice and losing three; but the surging Belize Defence Force FC started the second round by avenging their 5-1 first round loss to Wagiya with a 5-0 victory a week ago at the FFB Stadium; and yesterday at a scanty Norman Broaster Stadium, with many Verdes fans otherwise occupied with a political pre-election rally, the army grabbed their second win of the tournament, while handing the star studded Verdes FC their first loss.
Verdes was missing Brazilian striker Alcides "Paco" Thomas and Mexican midfielder Jesus Patino; while BDF featured a veteran Dangriga striker of high quality, James Flores, who had netted a hat trick in their previous encounter with Wagiya, and opened the scoring against Verdes yesterday.
James, 29, said he was a member of the New Site Erei national champions a decade ago, but after the team "bruk up," he had joined BDF and stopped playing competitive football for a few years. With his experience and the young stallions, Osmar Duran and Shane "Chucky" Flores, the BDF attack is suddenly quite formidable.
Both top strikers Deon McCaulay and Jarret Davis were in the Verdes line-up yesterday, but their central midfielders Rodney Shamir Pacheco and San Mendez were unable to create many good opportunities for them, thanks to their BDF counterparts Michael Martinez and Raymond Ramos. Verdes' Honduran goalkeeper Benito Moreira was also missing, as was midfielder Nahjib Guerra and defender Victor Cruz; but 18 year old Yusef Guerra from Benque Viejo did an excellent job in goal for Verdes. Nevertheless, James Flores' shot from just inside the eighteen, after a through pass on the left side, had "goal" written all over it at the 32nd minute.
Gilroy "Bredda" Thurton made his return to the Verdes' line-up with full impact in second half, quickly creating problems for the BDF defence, and winning a free kick after being taken down just outside the eighteen. When Deon's shot glanced off the BDF defence wall, Bredda pounced on the rebound and blasted into the top left corner from close range for the 1-1 equalizer at the 51st minute.
But BDF would not be denied, and ten minutes later it was Shane "Chucky" Flores driving the left side into space and sending a long high ball across the Verdes goal area; and it was met coming from the right side by midfielder Paul Nunez, who directed a perfect header past Verdes' goalie Yusef Guerra and down into the Verdes goal. 2-1, BDF in front at the 62nd minute.
Verdes was in shock, but not deterred, and they mounted a strong offensive, resulting in two very dangerous attempts in the waning minutes, a grounder by Jarret Davis, and a header by Deon McCaulay, that saw BDF goalkeeper Tevin Gamboa coming up with spectacular saves to protect their 2-1 lead. And it stayed that way till the end for the BDF 2-1 victory, the first loss for Verdes in this Opening Season.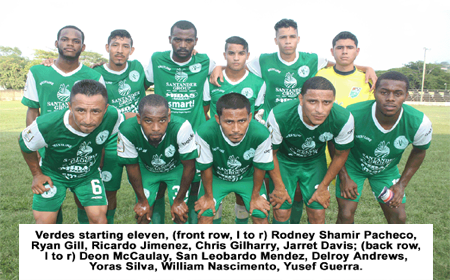 The race to the top-4 playoffs is winding down, and BDF is now very much in the race, although both Verdes FC and Placencia Texmar Assassins have an extra game in hand (back match).
Goals: BDF – James Flores 32', Paul Nunez 62'; Verdes – Gilroy "Bredda" Thurton 51'.
BDF FC – goalkeeper #1 Tevin Gamboa, #20 Charles Grant, #15 Leon "Chow" Cadle, #12 Ricky Ricketts (#16 Adel Avila at 82'), #4 Orland Trapp, #21 Paul Nunez, #10 Osmar Duran, #14 Michael Martinez (#9 Harrison Tasher at 61'), #24 Raymond Ramos, #19 James Flores (#17 Adgar Adderley at 78'), #11 Shane "Chucky" Flores. Coach – Gregory "Paisa" Cantun.
Verdes FC – goalkeeper #22 Yusef Guerra, #34 Ryan Gill, #30 Chris Gilharry, #26 William Nascimento, #6 Rodney Shamir Pacheco, #25 Yoras Silva, #3 San Mendez, #21 Delroy "Tin Man" Andrews (#24 Gilroy "Bredda" Thurton at 47'), #8 Ricardo "Cheety" Jimenez (#28 Oswin Williams at 64'), #9 Deon McCaulay, #10 Jarret Davis. Coach – Walter Salazar.
Officials – referee, Christopher Reid; assistants, Wendell Esquiliano and Vicente Bolon; 4th official, Fahreed Ahmad
Upcoming Week 8 games:
Saturday, November 7
7:30 p.m. – Belmopan Bandits FC vs Verdes FC – FFB Stadium
7:30 p.m. – Placencia Assassins FC vs BDF FC – Michael Ashcroft Stadium
Sunday, November 8
4:00 p.m. – Police United FC vs Wagiya FC – Norman Broaster Stadium