BELIZE CITY, Wed. Jan. 28, 2015–Taiwan has been a diplomatic ally of Belize since October 13, 1989, and for the past 12 years, that country has provided degree scholarships to hundreds of Belizeans while also providing them with a rich cultural experience on the picturesque Asian island of 23 million people which spans 14,400 square miles.
Taiwan's Ambassador to Belize, H.E. Benjamin Ho, said at the launch of the 2015 scholarship program at the Chateau Caribbean in Belize City today, that the bilateral cooperation program between the governments of Belize and Taiwan spans four fronts: infrastructure development (such as support for highways and sporting facilities, including the Marion Jones Sporting Complex); technical transfer (in areas such as ICT and agriculture); medicine; and human resource development. It is under the last category of cooperation that the scholarship program falls.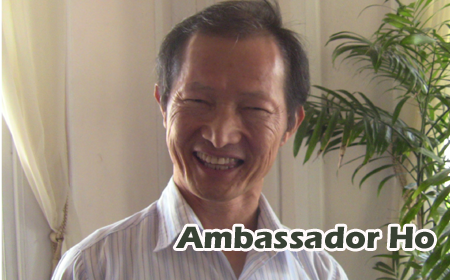 The Ambassador said that over 100 Belizean students are currently studying in Taiwan. He said that the best applicants will be chosen through what he described as a fair, open and transparent competition. From those called in for an interview, they will choose the top applicants to study in Taiwan. He advised aspirants that they are expected to serve their home country for at least two years after the completion of their scholarship program.
The Embassy, he said, cannot guarantee that scholarship awardees will be given a job upon their return to Belize. In fact, he advised that students should consider creating their own jobs and becoming their own bosses, while opening job opportunities for others.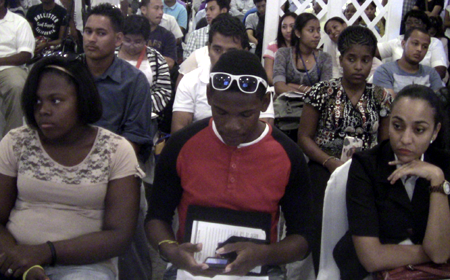 According to John Chang, First Secretary at the embassy, Taiwan has granted 258 scholarships to Belizeans since 2002. In 2013 and 2014, there were 26 recipients in each of those years, with 85% of recipients receiving International Cooperation and Development Fund (ICDF) scholarships, for programs mostly taught in English, and the others receiving Ministry of Foreign Affairs (MOFA) of Taiwan Scholarships, for programs taught in Mandarin, which usually means that students take Mandarin classes before launching their degree program.
About 20% of the ICDF scholarships are usually awarded to persons in health services. However, Augustina Elijio, deputy director of health services and chief nursing officer in the Belize Ministry of Health, said at the presentation that challenges are encountered in the effort to place persons who have studied on the program, because they often lack practical skills in the field, although they may have a high level of academic qualification. She, therefore, urges nurses who plan to apply in 2015 to also focus on getting the requisite practical skills for their career advancement and to seek the proper nursing registration to serve when they return from Taiwan to Belize.
Keisha Rodriguez, interim president of the Belize Taiwan ICDF Alumni Society (BTAS), said that the scholarship committee would be looking for three things: excellence, openness and commitment to change.
She noted that scholarship recipients are really ambassadors of Belize while in Taiwan, and the bar has already been set high by Belizeans who have gone on the scholarship program and who have attained academic excellence while participating on university sports teams.
Rodriguez said that Belizeans who are picked for the program will also have to learn to do things differently and they will have to be open to new experiences and also be willing to share of themselves, as Belizeans, with their home country.
There will also inevitably be change on the individual level, she also said. However, she noted that scholarship recipients have to realize that the education they will receive is not only for them – but for their country. Recipients will most likely be those who are poised to lead the process of change upon the completion of their studies and contribute to the development of Belize.
The deadline for the ICDF scholarships is March 16, 2015, while the deadline for the MOFA scholarships is March 31, 2015.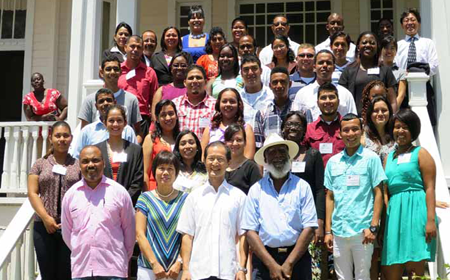 Chang gave a comprehensive review of the scholarship criteria and application procedures, which can be found online at http://www.taiwanembassy.org/BZ, under the menu tab labeled "Taiwan Scholarships".
In summary, applicants must be Belizean citizens and overseas Chinese and Taiwanese nationals cannot apply. A GPA of at least 3 is also required, and applicants must be in good health (and HIV-negative). More details can be found online.
Chang said that Master's degree students form the mainstream of Taiwan's scholarship program, and all applicants must choose only one scholarship and apply to only one Taiwan school for the program of their choice. He noted that Belizean students due to graduate this June can still apply if they meet the eligibility criteria.
By early July 2015, the Embassy will notify those persons who will be selected by their scholarship committee.
In August, the Embassy of Taiwan in Belize will host an orientation session for the 2015 scholarship awardees.