*Malapportionment: Any system where one group has significantly more influence than another, such as when voting districts are unevenly spread out across a population. (yourdictionary.com)
Malapportionment of an electoral division means that it is poorly apportioned, divided, organized, or structured in a manner that prevents large sections of a population from having equitable representation in a legislative body. (dictionary.com)
My article in last week's Amandala entitled, "Belize's Constitutional Requirement for Electoral Redistricting Can and Must Be Done" made reference to the total number of voters by constituency as at February 2020, as released by the Elections and Boundaries Department. Although the conclusions from those figures remain the same as I had discussed in that article, I believe it would be clearer for citizens to examine the most updated numbers as at July 2020, as is their right to do. As the saying goes, we cannot change what we are not aware of. Awareness is the greatest agent for change – unless you are satisfied with declining standards of Belize's democracy.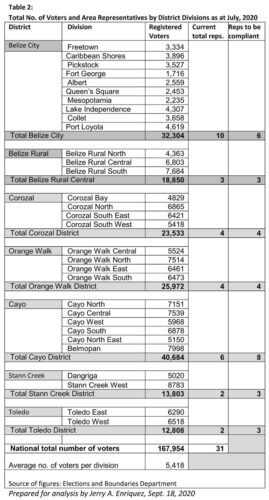 In that regard, I am sharing the following two Tables (Tables 1 & 2) in order to expand public awareness regarding the malapportionment of voters in electoral divisions across this country. The objective is also to highlight the urgent need for redistricting, as mandated by Belize's Constitution.
This malapportionment that continues unchecked has resulted in gross political inequality, since it makes the value of people's votes in small electoral divisions much larger than the value of people's votes in large divisions, as we will see in Tables 1 and 2.
Although both political parties seem nonchalant and loudly silent about correcting this Constitutional breach, such disparities ought to be a matter of great concern to the public, because they conflict with our widely held conviction that political institutions ought to give all citizens an equal voice, as enshrined in the Constitution.
In light of the fact that malapportionment impacts various socio-economic and political outcomes, including the policymaking process, distribution of funds and constituents' access to area representatives, Table 1 and 2 are meant to clarify the degree to which voters in various constituencies are under- or over-represented in the House of Representatives.
The established pattern in Belize's dysfunctional democracy is that the smaller-than-average constituencies (mostly in Belize City) are most often overrepresented in Cabinet. Given the fact that their legislative vote is worth less than those of citizens from small constituencies, the larger constituencies are not only underrepresented in the legislature, but they also tend to be under-represented in the executive.
Table 1 shows the total number of registered electors for each of the 31 constituencies in Belize as at July 2020. It also shows the percentage by which each constituency falls below or lies above the average number of votes required for each constituency. As shown in Tables 1 & 2, each and every electoral division in Belize City falls below the average number of voters that is constitutionally required for equitable representation in the legislative body.
The percentage that was calculated from figures provided by the Elections and Boundaries Department, reveals four Belize City divisions falling under 50% of the required average, the lowest being Fort George at 32% of the required average. Mesopotamia also falls way short, with 41% of the average, and likewise Queen's Square with 45%. Freetown with 62%, Pickstock with 65%, and Collet with 68% also fall significantly lower than the required average number of voters per constituency. Those Belize City divisions with higher percentages — Caribbean Shores with 72%, Lake Independence with 79% and Port Loyola with 85%, all still fall short.
What is also disturbing in this vastly unequal distribution of voters by constituencies is that while the voters in Belize City are granted vastly unequal power in their votes, there are divisions in other districts that are strongly marginalized. Notably, Stann Creek West at 162%, and Belmopan at 148%, Belize Rural South at 142%, Cayo Central at 139% and Orange Walk North at 139% are severely malapportioned, which makes the people in those divisions the most under-represented in the legislature.
In fact, with the exception of Corozal Bay, Corozal South West, Orange Walk Central, Cayo West, Cayo North East, and Dangriga, which are fairly near the 100% of average number of voters, all other constituencies outside the Belize District are significantly above 100% of the average number of voters required.
Table 2, which calculates the number of area representatives for each constituency, reveals that with its total number of 32,304 registered voters, Belize City ought to be redistricted to have 6 area representatives; not 10 as it currently has. It also shows that Cayo District, with 40,684 registered voters (or 25% more voters than Belize City), ought to have 8 area representatives and not 6, as it currently has. The Toledo and Stann Creek districts both ought to gain an additional area representative — up from the current 2 area representatives to 3. This is especially so in the Toledo District, because of the large number of villages spaced out through a wide geographic area, indeed a far wider area than those divisions in Belize City.
How did this situation occur? In the census of 1961, when the population of the country was 90,400, the population of Belize City alone was 32,824, or a little over one-third (36% to be exact) of the entire population of the country. Belize District, with a population of 40,200 in 1961, was nearly 3 times the population of the Cayo District, with a population of 11,700, and at least four times that of every other district. During those years, of the total of 18 constituencies, 6 constituencies (or 1 of 3 countrywide) were in Belize City alone, and 2 were in Belize Rural, while the remaining 10 constituencies represented 2 from each of five other districts. (Source: Portfolio of Information on British Honduras, Government Information Service, Belize City, 1961). Since then, although there has been a large shift in population spread through each district, the hogging up by Belize City of one-third of the total number of legislative seats remains a disturbing status quo and a blatant violation of the Constitution.
The Constitution of Belize, Section 90 (1), guarantees every citizen an equal political voice. In accordance with the Constitution, the securing of this equal political voice includes, "dividing Belize into electoral divisions in such a way that each electoral division shall have as nearly as may be an equal number of persons eligible to vote".
The Constitution is meant to safeguard the rights of the citizens. It also binds every elected official to comply with our supreme law. It is not meant for any government to decide whether it should or should not obey the Constitution at its discretion. Likewise it is not even for the Elections and Boundaries Commission and Department to blatantly and conveniently flaunt the Constitution. As servants of the people, all members of the National Assembly are sworn to abide by the supreme law of the country, even if unions, the business community, bar association, media, civil society and the citizens at large are dozed off in a full-belly sleep of apathy such as not to assert the rights that are enshrined in the Constitution. As the gross inequalities in the Table 1 & 2 show, redistricting is long overdue and must be done.