BELMOPAN, Wed. Nov. 20, 2019– In celebration of International Children's Day and the 30th anniversary of the signing of the UN Convention on the Rights of the Child, thirty-one Belizean youths assumed the roles of parliamentarians at the House of Representatives on Wednesday, November 20.
While the idea of children hosting a National Assembly meeting might seem comical, these bright scholars were commended from all corners for being well-researched, well-spoken and poised as they represented the thirty-one constituencies across the country.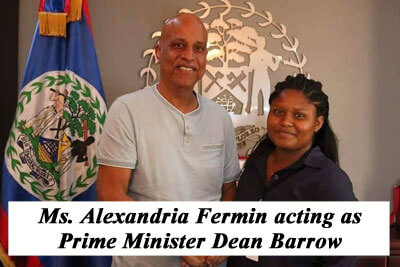 Unlike many of the House meetings that have been televised, yesterday's meeting was free of personal attacks and emotional rebuttals. The youth representatives remained focused on the rights of Belizean children in areas such as education, health, protection and safety.
Although the event was a mock sitting, the students raised very valid points to highlight the difficulties being faced by young persons in Belize with regard to access to affordable and adequate education and healthcare, especially for those in the urban areas. Among those points, the students also referenced credible sources regarding government spending, which has mainly been allocated to infrastructure development and has had little benefit for Belizean children.
Some noteworthy figures were present at the hearings, including UDP senator Hon. Dr. Carla Barnett; deputy leader of the PUP, Hon. Cordel Hyde; as well as Ministry of Labor C.E.O. Sharon Young; and Country Representative of UNICEF, Dr. Susan Kasedde — who are also members of the organizing committee for this initiative.
Hon. Cordel Hyde commented on the impressive manner in which the students were able to conduct the House meeting and he noted that they highlighted valid points to be considered by actual parliamentarians. In an interview with News5 Live, he was quoted as saying:
"They put us to shame. They are well-researched, well-prepared, and better prepared, rather articulate and really in touch with the issues. I think it is a wake-up call for us parliamentarians that we really need to listen to these kids because we are legislating for them, we are providing for them but we don't ever speak to them."
Acting in the position of the Prime Minister and Leader of the Opposition were Ms. Alexandria Fermin and Mr. Nadir Mendoza, respectively, who both were impassioned in their delivery and expressed their hopes for a brighter future for youths.
Wednesday's meeting came at the end of two training sessions that were held over the past two months and was the second Children's Parliament Meeting held in the country.